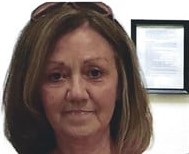 Phyllis Lambert Lowe, 73, of Olin, N.C., died Monday, November 29, 2021, at Iredell Memorial Hospital. Born in Surry County, N.C., on January 25, 1948, she was a daughter of the late L. W. Lambert and Edith Pardue Lambert.
She worked in finance as a loan officer and attended Sweet Home Baptist Church. She enjoyed gardening, art and painting, her grandchildren and reading. She was a big Republican. She loved her church and her parents and was a caregiver to parents and grandchildren. She was a good Christian mother to her two daughters. She also had a special love for her dogs.
Survivors include her daughters, Kaleah Hendren (Bradley) and Kristin L. Lowe; a sister, Melissa Cornett; three grandchildren: Savannah, Webb (Ethan), Jasmyn Lowe and Colt Hendren. Also surviving are her partner in life, Joey Inscore, and his children, Mykel, Amie and Josh.
Memorial services will be conducted at 4 p.m. on Sunday December 5, 2021, at Sweet Home Baptist Church with Pastor Gary Blalock officiating. Private burial will be in the church cemetery. The family will greet friends immediately following the service.
Condolences may be sent online to the family to www.nicholsonfunerals.com. Memorials may be given to the Sweet Home Baptist Church Building Fund, 7173 Somers Rd., Union Grove, NC 28689.
Nicholson Funeral Home is entrusted with the arrangements.