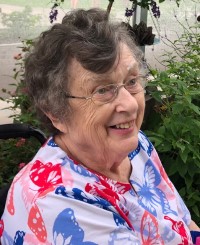 Sara "Sally" Johnson Wiley, 81, passed away peacefully at Iredell Memorial Hospital in Statesville, N.C., on Friday, February 26, 2021.
Sally was born on December 9, 1939, in Washington, N.C., and lived there until her husband of 53 years passed away in 2014. At that time, she moved to Statesville to be closer to her children. Sally worked in the Beaufort County Schools for 32 years as a teacher's assistant and computer instructor. When she retired, she worked at the Washington Daily News as a part-time receptionist. As a teenager, she wrote "Talk of the Teen" for the newspaper and enjoyed returning to the paper in her retirement years.
Sally loved her hometown of Washington and the Pamlico River. She was a graduate of Washington High School and then attended Flora MacDonald College in Red Springs, N.C., where she developed a love for all things Scottish. After graduation, she moved to Raleigh to work, but quickly returned home to marry the love of her life and to raise a family. She was president of the Pine Needles Garden Club and a devoted member of First Presbyterian Church, where she served in many roles, including deacon. Sally also loved her friends in the Tea and Topics Book Club, of which her mother had been a charter member.
When Sally moved to Statesville, she missed her friends and family in Washington, but she adapted quickly to life at her retirement community, the Gardens of Statesville, and participated in all of the activities offered there with her dog, Little Bit, by her side. She made many friends and became the head "bingo caller." A special thanks to the staff at the Gardens and to Wilma and Sydney Harmon, who helped make Statesville her second home.
Sally was preceded in death by her husband, William "Billy" Russell Wiley; her infant son, William Russell Wiley Jr.; her parents, Sara Long and Jimmy Johnson; and her brother, Jimmy Johnson Jr.
She is survived by her daughter, Sara Gray Horne and her husband Mike; her son, Rusty Wiley, and daughter-in-law, Janie; and her beloved grandchildren, Morgan, Grayson (Liz), and Maddie Wiley. She is also survived by her sisters-in-law, Gayle Morgan, Kathy Lassiter (Doug), and Susan Wiley; and her brother-in-law, Steve Wiley (Pat), and numerous nieces and nephews who remember her caramel cakes and biscuits fondly.
A private family graveside service will be held in Washington, N.C., at a later date. Memorials may be made to First Presbyterian Church, 211 W. Second Street, Washington, NC, or to the charity of your choice.
Troutman Funeral Home is serving the family.