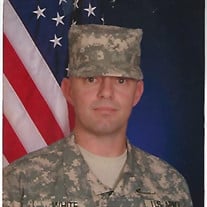 Sgt. Nicholas Huntington White (Ret.) was born Friday, January 13, 1967, and the breath of life from God went back to God October 1, 2021, and his flesh is left for us to honor because he was a good honorable man who loved the Lord Jesus.
He was blessed with four beautiful daughters, Megan, Rinthia, Emily and Katherine. He leaves them with memories of his kindness and love as their father.
He is survived by his brother, Travis Andrew White, and his sister, Kristin Rae White, along with his mother and father, Harry and Penne White. Nick has a large extended family of grandchildren, nieces, nephews, cousins, aunts and uncles. He loved them all.
John 11:25: Jesus said unto her, I am the resurrection and the life: he that believeth in me, though he were dead, yet shall he live.
A gathering of family and friends will be held at Nicholson Funeral Home on Thursday evening from 6 to 8 p.m. and burial will take place in the National Cemetery in Salisbury at 9 a.m. on Thursday, October 14, 2021.
See you in heaven, Nick. God Speed.
Condolences may be sent online to the family to www.nicholsonfunerals.com. Memorials may be given to the Wounded Warrior Project, 1990 Fordham Drive, Suite 100, Fayetteville, NC 28304.
Nicholson Funeral Home is entrusted with the arrangements.