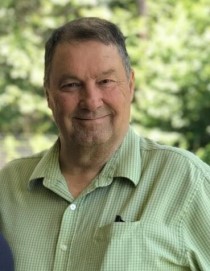 Stephen Lee Moose, 66, of Troutman, N.C., met his Lord and Savior on August 23, 2021, after 9½ years of fighting cancer. Stephen was born on January 9, 1955, in Mooresville, N.C., and is the son of Bill Moose and the late Mary Moore Moose.
He grew up in Mooresville and began working at Burlington Mills. On December 7, 1975, he married the love of his life for 45 years, Sylvia Jasper. He was employed at Hunt Manufacturing, where he worked in maintenance. He was then trained in Management and Safety Environmental work. His Safety Environmental career also included employment at Speedball Art Products, Thonet, Iredell Fiber, Centro, and Statesville Brick, where he retired. He loved and cared for people, and their safety.
He was a dedicated member of Temple Baptist Church in Statesville for 41 years, where he enjoyed assisting with bus ministry and learning about the Lord through the Bible. He loved his church family and appreciated all their prayers on his behalf.
He enjoyed playing with his grandchildren, who were the light of his life, as well as hunting and goofing off with his daughter, and being a committed husband.
Stephen was preceded in death by his mother, Mary Moore Moose, and brother-in-law, Frank Reid.
Stephen is survived by his wife, Sylvia; son Stephen Moose (Stacey) of Fort Worth, Texas, daughter Shannon Childress (Samuel) of Statesville; siblings Bill Moose (Debbie) of Statesville, Elaine Reid of Mooresville, Donna Newton (Gene) of Willow Springs, and Robert Moose (Lisa) of Mooresville; father Bill Moose; cousin Thomas Moore; eight grandchildren, Stephen Moose, Sabrina Moose, Samantha Childress, Sarah Moose, Spencer Childress, Saxton Moose, Sydney Childress, and Soiyer Moose.
The family will receive friends at Temple Baptist Church, 205 Museum Road, Statesville, N.C., on August 28, 2021, from 1 to 2:30 p.m. The service will follow with Rev. Randy Mitchell and Rev. James Childress officiating. He will be laid to rest at Oakwood Cemetery.
Memorials can be made to Temple Baptist Church, 205 Museum Road, Statesville, NC 28625.
The family of Stephen Moose wishes to extend our sincere thanks to Hospice and Palliative Care of Iredell County and Troutman Funeral Home.
Troutman Funeral Home is serving the family.