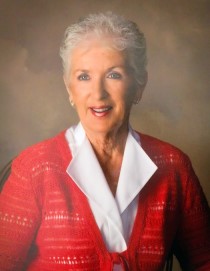 Sue Millsaps Carter, 84, of Statesville, N.C., passed peacefully on October 18, 2021. Born September 20, 1937, in Statesville, N.C.; she was the daughter of the late Eli Gill Millsaps and Dorothy Scott Millsaps. Sue is survived by her sister, Jean Harpe, and was preceded in death by her sister, Barbara Foster.
The depth of love and thankfulness for our mother and grandmother, Sue Carter, cannot be expressed. Filled with the strength and grace with which she led her life, she faced her diagnosis of Alzheimer's disease. She continued to live her life with delight, bringing joy to her family and friends until Jesus chose to take her home.
Sue attended Cool Spring High School, where she was active in student government and athletics. She began her career at Southern Screw Company/ NL Fasteners, remaining an employee for over 40 years until its closure. She then worked for six years at Hunt Manufacturing. Sue graduated from Mitchell Community College with an Associate's Degree.
In 1974, Sue married Roger Jackson Carter, who lost his battle with pancreatic cancer in 2013. Sue enjoyed cross-country motorcycle trips with Roger and their friends well into her 70s. Whether snow skiing out west, in Europe or playing adult basketball, she was passionate about life.
Sue was a member of Northview Church of Christ and was a long-time member of the Daughters of the American Revolution.
Sue is survived by her two sons, Dale Fox (Leslie), and children, Katie Fox, Gus Fox, Emma Fox, Madison Wiseman; Gill Fox (Rhonda), and great children, Jennifer Fox, Christine Fox, and Amanda Walkup (Michael). Her six great grandchildren, Adalyn and Maci Meredith, Julian and Jeremiah Fox, and James and Davina Walkup, also survive Sue.
Funeral services will be held on Sunday, October 24, at 2 p.m. at Northview Church of Christ with Pastor Les Bonnett officiating. The family will visit with friends at the church one-half hour before the service time. Burial will take place at the National Cemetery in Salisbury, N.C., on Tuesday, October 26, at 10 a.m.
In lieu of flowers, memorial donations may be made to Gordon Hospice House of Statesville.
Troutman Funeral Home is serving the family.