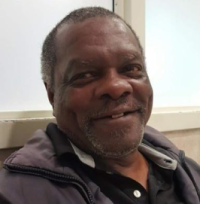 Mr. Sylvester Stokes, 71, of 1412 Wilson Lee Boulevard, Statesville, N.C., passed away at his residence on Tuesday, October 12, 2021, following an extended illness. He was born in Alexander County on February 12, 1950, and was the son of the late Myrtle Smith Stokes and Wiley S. Stokes.
He received his education in the Alexander County Schools. Prior to his retirement, he was employed by Textile Mills in Statesville and Hickory.
In addition to his parents, he was preceded in death by his children, Veronica Stokes and Tonya Brice; his siblings, Arthur Stokes, Osburn Stokes, Dollie B. Stokes, James Stokes, Walter Stokes, Vera Stokes, Ruth Wellman, Mary Edna Clark, Juanita White, Fred Stokes, Ned Stokes, Robert Stokes, Rosetta Brandon and Alberta Lackey.
He leaves to remember and celebrate the blessings of his life his daughters, Cathy Stokes (Reginald) Dye of Statesville, and Shontia Stokes of Statesville; one grandchild, Tyra Stokes; two brothers, Ted Stokes Sr. of Stony Point and David (Christine) Stokes of Statesville; one sister, Vehester Dalton of Statesville; one special friend, Ann Imes; and a host of nieces, nephews, cousins, other relatives and friends.
Rutledge and Bigham Mortuary Inc. is serving the family of Mr. Sylvester Stokes.