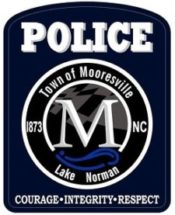 Editor's Note: This is the second part of a series on domestic violence.
Special to Iredell Free News
In our last column, we identified what domestic violence is and dispelled some of the myths surrounding it. Over the past five years the Mooresville Police Department has made huge strides in strengthening the response to domestic violence, sexual assault, and stalking incidents. For example, MPD has increased its involvement with the local domestic violence task force; adopted policies and protocols based on best practices recommended by the N.C. Coalition Against Domestic Violence, the U.S. Department of Justice, and the Office on Violence Against Women; and utilized grant funds to implement key positions that are specially trained to investigate crimes of domestic violence, hold abusers accountable, and assist victims in accessing resources and services to improve their safety and well-being.
What can a person expect from MPD in their response to domestic violence? For starters, you can expect two or more officers to respond, and you can expect our dispatchers to gather important background information on the address and persons involved, regardless of the circumstances. Why? A recent U.S. Department of Justice study found that 40 percent of officer on-duty deaths are related to calls involving domestic violence, making it the single most dangerous call for service to which an officer responds. Additionally, officers will secure the scene for everyone's safety, separate the parties involved, and conduct a thorough investigation of the facts that led to the incident. The investigation may include obtaining statements about what occurred, collecting evidence, taking photos, and, if probable cause exists, arresting the predominant aggressor.
Law enforcement agencies in Iredell County are consistent in their strict enforcement of laws related to domestic violence and holding offenders accountable for violations. Under the authority of N.C. General Statute 15A-401(b), an offender will be arrested in Mooresville if they commit a felony; commit a misdemeanor and need to be arrested immediately (due to flight risk or danger to others or property); commit domestic criminal trespass; commit an assault against a person whom they have had a personal relationship as defined by NCGS 50B (Domestic Violence); violated their pre-trial release conditions under NCGS 15A-534; or violated a Domestic Violence Protective Order (DVPO).
If an arrest is made, officers will do several things before leaving the scene and completing a report, including:
• Providing the victim with their Crime Victim's Rights information. This includes contact information about the officer and the District Attorney's Office, victims' compensation services, how to obtain updates on custody status and case information, and more.
• In cases involving intimate partners, officers will administer a Lethality Assessment, which is an evidence-based tool used to identify victims who are greatest risk for the purposes of getting them out of harm's way and encouraging them to access available resources.
• Providing the victim with a copy of the Domestic Violence Task Force of Iredell Resource Guide, which explains the process for obtaining a Domestic Violence Protective Order, contact information for dozens of local and regional victim service organizations, and provide important information for victims to consider when developing a safety plan.
The MPD's assistance doesn't stop when the officer leaves the scene. A lot of work goes into preparing strong domestic violence cases for prosecution, which often requires more time and investigation than patrol officers have available, due to call volume. In addition, many people involved in domestic violence crisis may be overwhelmed and need extra support.
Since 2016, MPD has been awarded eight federal and State grants totaling more than $1.6 million to support the implementation and retention of two Special Victim Detectives and this year the implementation of a Community Resource Coordinator. Most of the salaries, fringe benefits, training, and equipment for the positions has been funded through these grants. A portion of these funds also support a Victim Advocate position at My Sister's House, the local women's crisis center operated by Fifth Street Ministries.
Currently, Robin Watts and Shane Safrit serve as Special Victim Detectives (SVD) in the MPD Criminal Investigations Division. The duties of the SVD include screening or investigating every incident of domestic violence, sexual assault, human trafficking, or stalking reported to MPD. In other words, they look at every case reported and determine what needs to be done to assist the victim or strengthen the case against the abuser. This often involves long hours of investigation, gathering evidence, follow-up interviews, and extensive documentation. SVDs also work with community partners on awareness and outreach activities; facilitate referrals for victims to needed resources as well as abusers to offender-focused services such as substance abuse treatment, batterer's intervention, and others; and facilitate training of MPD officers on laws related to domestic violence and best practices designed to improve our response to these traumatic incidents. The goal is to reduce crimes of domestic violence and recidivism while holding repeat offenders fully accountable.
In July, Lori Carlson joined the MPD as Community Resource Coordinator (CRC). This position is a combination of community liaison, outreach coordinator, social worker, counselor, and victim advocate rolled into one. It is the first of its kind at the department and significantly improves our ability to provide a holistic approach to the problem of domestic violence. Experience has shown that people in crisis situations, such as being abused at the hand of an intimate partner, need help from others and they often do not have the wherewithal to escape the situation alone. The CRC steps in to facilitate and manage service referrals for victims of domestic violence. These referrals are generally received from officers who encounter individuals in need on calls for service or are simply met during their day. The goal is to increase victim access to legal, health, faith-based, governmental, or other support services as determined through an assessment by the CRC and to reduce repeat victimization.
We hope that you never need these services, but if you do, or you know someone in Mooresville who does, we strongly encourage you to contact the MPD. You are not alone. There is an entire network of people and organizations who are ready and able to help you. For more information, contact Lori Carlson at 704.664.3311 or LCarlson@MooresvilleNC.gov, or stop by Mooresville Police Department any time of any day.