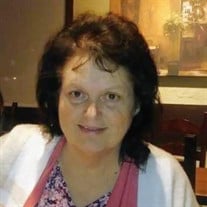 Teresa Marlene Clower Charles, 61, passed away Friday, June 11, 2021, at Gordon Hospice House in Statesville, N.C. Teresa was born in Baltimore County, Md., on March 10, 1960, to the late James Richard Clower Sr. and Darthula Williamson Clower.
She was a member of Under His Wings Ministry in Statesville.
In addition to her parents, she was preceded in death by two sisters, Debbie Hinton and Sandra Blalock; one infant daughter, Michelle Blevins; and one step son, Michael Charles.
Teresa is survived by her husband of 31 years James "Jimmy" Boaz Charles Jr. of the home; one step son, Brian Charles and wife Sherry of Winston-Salem; one daughter, Kimberly Blevins Teague; one step daughter, Natasha Chatham and husband Ross of Welcome, N.C.; brother, James R Clower Jr. and wife Charlene of Statesville; and seven grandchildren, Richard, Christa, Abigail, Hayden, Brianne, Hoceana and David; and a number of nieces and nephews.
Funeral Services will be conducted Monday, June 14, at 2 p.m. at Under His Wings Ministry in Statesville and officiated by Rev. Jerry Massey and Rev. James R. Clower Jr. The family will receive friends at the church prior to the service from 1 to 2 p.m. Burial will follow at Oakwood Cemetery in Statesville.
In lieu of flowers, donation may be given to the Teresa Charles Fund at Chapman Funeral Home, 158 Stony Point School Road, Stony Point, NC 28678.
Chapman Funeral Home is serving the Teresa Charles family.