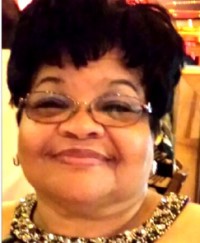 Thelma Turner, affectionately known as "Aunt T" and "Ma T," was born to Emery and Rosetta Brawley on March 26, 1950, in Statesville, Iredell County, N.C., and departed this life on January 14, 2021, at 4:44 a.m. in Marietta, Ga. Thelma was the youngest of five children. She was preceded in death by her parents, and by her siblings Lucy Brawley Moore, Oscar Brawley and Malinda Brawley.
She is survived by her sister, Vivian Brawley Williams of Statesville; and her two children, Monica Turner of Seattle, Wash., and Lemuel D. Turner Jr. (Lana) of Acworth, Ga. She leaves also to cherish her memory her grandson, Jordan Turner of Acworth, Ga., her lifelong friend that was as close as a sister, LaFonda Blair of Statesville, and a host of nieces, nephews, relatives, classmates, and friends.
Thelma was baptized into Mt. Pleasant AME Zion Church at an early age. She was educated in the segregated public schools of Statesville and Iredell County, where she graduated from the Morningside High School in 1968. After graduation Thelma married Lemuel D. Turner (deceased). The two were the proud parents of Monica and Lem Jr. for over thirty years before their union ended in divorce. They remained friends however and neither remarried. Lemuel preceded Thelma in death.
As a military spouse, Thelma travelled with Lemuel to nine different states, including Florida, Utah, and Arkansas. Always the scientist at heart, Thelma took the opportunity to enroll in the Bachelor of Science of Nursing Program at the University of Arkansas Medical Science Center where she achieved her BSN in nursing.
Thelma entered the profession and served as a Registered Nurse across the United States and retired from Kennestone General Hospital in Marietta, Ga. Thelma was a member of multiple clubs and organizations, including the Filipino Nurses Club.
Thelma had a number of hobbies, including cruising, gaming and being a cat mother to her cats, Thomas, Jerry and Camilla. The activity that Thelma loved above all else, however, was spending time with her family. She was known to get into a ferocious nerf dart fight with her grandson Jordan. She started and encouraged the annual Brawley Family Reunion and never let us skip a year until the pandemic. Thelma was the person you could count on to call you out of the blue when you needed to hear a friendly voice to cheer you up. She was always sending funny jokes and notes to everyone. She always had a funny story to tell.
Thelma was short in stature. But she was a giant to her family and friends. She was always ready for prime time, hair, nails and dress, looking just right. She was the best mother, sister, aunt and friend anyone could ever ask for. She was just Thelma and she was just right.
We love you and we miss you Thelma. You were kind to all of us and we know that you loved us too.
Celebration of Life Services are Incomplete.
Rutledge and Bigham Funeral Home is serving the family.