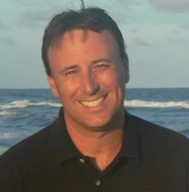 Scott Abrams, 51, of Mooresville, N.C., passed away peacefully on February 9, 2021, at his home, surrounded by his loving family.
He was born on February 19, 1969, in Poughkeepsie, N.Y., to Richard Abrams and Marlo Malanik Springer. Scott grew up in Florida in the Tampa Bay area, where he had a wonderful childhood playing sports, enjoying the beach and fishing year-round with friends and family. From a young age, Scott was athletic and excelled at baseball, football and tennis. He attended Countryside High School in Clearwater, Fla. He continued his education at the University of Central Florida where he graduated in 1996 with his MBA.
After college, Scott went on to have a long and fulfilling career working for N.E.W Corp and Asurion Corporation, where he was Director of Sales Development. Scott was a loyal employee, valued achiever and an exemplary relationship builder. His positive attitude, amazing work ethic and engaging personality gained him many lifelong friends with former colleagues and clients alike. He was an inspiring leader and was passionate about helping others succeed and achieve their full potential. Scott always had smile on his face and was a true friend to all. In his free time, he enjoyed going to baseball games with his good friends at different MLB stadiums around the county. He was a lifelong University of Florida Gators, New York Yankees and Tampa Bay Buccaneers fan. He loved the game of tennis and all it represented. He inspired his children to take up the sport and cherished the endless hours playing on court with them and watching them compete over the years.
Scott was a devoted and loving husband, father, son, brother and friend. He and his family faced a tremendous challenge when he was diagnosed with ALS in 2011. Despite the devasting news, he made the decision to never let it bring him down or define him. He continued to lift the spirits of those around him with his strong faith, inspirational personality and intelligent sense of humor. He will be remembered for his positive attitude and courage in the face of extreme adversity. He fought valiantly to be here for his family as long as he possibly could. He was grateful for each and every day he was given. Scott's greatest happiness in life came from watching his children grow up to become amazing young adults.
Scott will be forever remembered and missed by his loving wife of 21 years, Katie, and his wonderful children, Brendan and Julia; by his father, Richard Abrams; mother and stepfather, Marlo and Ted Springer; step-brother Geoffrey Springer; step-sister, Ashleigh Springer; mother- and father-in-law, Bill and Peggy Hooper; brothers-in-law, Bill Hooper (Genie), and Tim Hooper (Jessica); nieces and nephews, Will, Michael, Hillary and Joshua; aunts and uncles, Ed Malanik, Shirley Malanik, Jim Malanik (Jessa), Judy Gambeski (Frank), Jack Abrams (Sue), Donny Abrams (Mary), and Skip Abrams (Joanne); and numerous cousins.
A funeral mass will be held at St. Therese Catholic Church in Mooresville, N.C. on Saturday, February 20, 2021, at 12:30 p.m. The service will also be live-streamed for those who are unable to attend in person. There will be strict adherence to State and CDC Covid-19 guidelines, including mask wearing and social distancing. The family understands that these are difficult times and is requesting that you please do what is best for you and your family to stay safe.
In lieu of flowers, memorials may be made to any ALS Foundation of the donor's choice.
Cavin-Cook Funeral Home & Crematory, Mooresville, is serving the Abrams family. Condolences may be made to the family at www.cavin-cook.com.