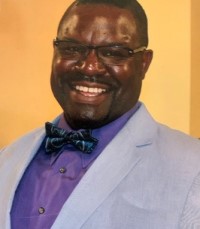 Mr. Timothy Enoch Miller, 54, of Statesville, N.C., passed away on Thursday, September 2, 2021, at Iredell Memorial Hospital in Statesville. He was born in Iredell County on March 5, 1967, and was the son of Josephine Daniels Miller and the late Willie Edward Miller. He was married to Margarita Mejia Miller, who survives.
Timothy was a graduate of West Iredell High School and Appalachian State University. At the time of his death, he was employed by Harris Teeter Grocery Store as a Human Resources Specialist.
In addition yo his wife, Margarita Mejia Miller, and his mother, Josephine Daniels Miller, he leaves to cherish the memory of his life two children, Timothy DeShaun Miller and Shaylah Breanna Miller, both of Statesville; a step-child, Brandon Clontz of Statesville; his godmother, Bernice McWhorter of Statesville; a brother, Daniel Scott (Shatonga) Miller, of Statesville; a sister, Lisa Nicole Miller (Beltrand) Scott of Statesvile; nieces and nephews, Devin Miller, Brittany Scott, Quadry Redmond, Te'Osha Miller, Dez-Twan Scott, A'nysa Caldwell, Amaya Tipps and Daniel Miller Jr.; great nieces and nephews, Aaliyah Miller, Camilla Redmond, Dainella Redmond, Lauryn Scott, Kainon South; Kingston Miller, aunts and uncles, Kenneth B. Miller of Statesville, Brenda Paker of Harmony, Adell (Frank) White, Joan Daniels, Ora (William) Merritt, Sherry Mayfield, and John (Eva) Daniels; his best friend, Todd Bellamy of Charlotte; a host of nieces, nephews, other relatives and friends.
Arrangements are incomplete at this time.
Rutledge and Bigham Funeral Home is serving the family.