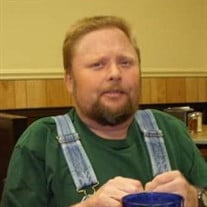 Timothy Thomas Pierce, 55, of Statesville, N.C., passed away on Tuesday, December 14, 2021, at Gordon Hospice House. Born on August 1, 1966 in Iredell County, N.C., he was the son of the late Thomas H. Pierce and Brenda Goodwin Pierce.
In addition to his parents, Thomas and Brenda Pierce, he was preceded in death by his maternal grandparents, Marshall and Ethel Hunter Goodwin Sr.; paternal grandparents, Foy and Jessie Jolly Pierce; uncle, Marshall "Jack" Goodwin Jr.; aunt, Evelyn Pierce Daniels; and father-in-law, Donnie Wilcox.
He is survived by his wife of 27 years, Wendy Wilcox Pierce; mother-in-law, Doris J. Wilcox; sister-in-law, Carol and Jim Sherrill and their children, Jay and Erin; brother-in-law, Kevin and Anna Wilcox and their children, Makinley and Maisy; aunt, Sue Ellen and Kramer Davis and their family; and cousin, Roger and Judy Daniels and their family.
Tim was a 1984 graduate of North Iredell High School. He was an avid outdoorsman who loved to hunt and fish. Tim loved 4-wheeling in the mud. He was a simple man with simple taste. He was easy going and loved meeting new people. Tim was also an accomplished photographer and a lifetime Atlanta Braves and UNC Tarheel fan.
The family will receive friends from 2 to 4 p.m. on Saturday, December 18, 2021, at Nicholson Funeral Home. The family will receive friends other times at the home of Doris J. Wilcox.
Nicholson Funeral Home has the honor of serving the family.