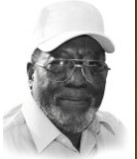 Mr. William Nathaniel Tatum, known to many as "Tatum." was born October 23,1948, in Davie County, N.C., to the late Bernard E. Tatum and Lucy Joyce Sutzer. He departed this life on December 6, 2021.
He attended Davie County Schools, where he graduated with the Class of 67. At an early age, he joined Cedar Creek Baptist Church, where he was an active member until relocating to Decatur, Ga.
He later went on to serve in the United States Army in the Vietnam War from 1967 to 1970, as Sergeant William Tatum (E-5). While serving in the military, William received many medals and awards for his heroism for helping save his platoon during an ambush. One of those medals was a Purple Heart. After serving in the military, he worked for Texaco and RJR, where he retired from and also where he met a host of friends.
He was a devoted husband, father, brother, uncle and a friend to many. With his kind and loving heart, he did not mind helping anyone in need. Working and making sure everyone in his life was okay was his passion even after retirement.
William was preceded in death by three sisters, Kay Francis West, Martha Annette Eaton, and Elizabeth Joyce Diane Tatum; two brothers, Henry Owens Tatum and Frankie Carl Tatum; and three grandchildren, William Dalton, Isaiah Ramseur, and Natavia Tatum.
Lovingly, William is survived by his wife, Mary Ramseur-Tatum of Decatur, Ga.; four children, Tonya (Patrick) Stout, William "Frankie" Tatum, and Casey Tatum, all of Mocksville, and Yolanda Ramseur-Tatum of Georgia; six loving sisters and brothers, Geraldine (Brut) Brown, Sarah Parks, and Daniel (Dub) Tatum, all of Mocksville; Bernard (Maenell) Tatum of Greensboro, Rachel (Bob) Calise of Winston-Salem and Cathy Tatum of Columbus, Ohio; three brothers-in-law, Robert (Lorna) Ramseur and William A. Ramseur, both of Cool Springs, N.C., and Donald (Debbie) Ramseur of Georgia; two sisters-in-law, Elizabeth A. Ramseur and Carol E. Ramseur, both of Decatur, Ga.; eighteen grandchildren; a host of nieces, nephews, cousins, other relatives, church family, and many, many friends.
Rutledge & Bigham Funeral Home is serving the family.