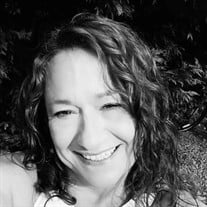 Tina "Michelle" Greene Brooks, 49, of Harmony, N.C., went to her heavenly home on Tuesday, November 30, 2021. Michelle was born on November 30, 1972, to her parents, Keith Greene (Cathy) and Julia Scott (Ken) in Stanley County, N.C.
Michelle was preceded in death by her father, Keith Greene; her mother, Julia Scott; her stepfather, Ken Scott; and her grandmother Nancy Greene; as well as many other aunts, uncles, friends, and family.
Left to cherish her memory are her four children, Cortney Hegler, Carmen Brooks, Kaycen Brooks (Ashley), and Kyndall Brooks. Also surviving are heir loving devoted father, David Jerome Brooks; four beautiful grandchildren, Amyah Cunningham, Tessa Hegler, Caleb Hegler, and Kylyn Brooks; her two little brothers, John Scott (Lauren) and Jacob Scott (Bridgett); and many cousins, nieces, nephew, friends, and family.
A service to celebrate the life of Michelle Brooks will be at The Cove Church, Statesville, on Saturday, December 4, 2021. Receiving of friends will be from 11 a.m. until 12 noon with the service following at 12 noon.
Memorial Funds made be made c/o Carmen Brooks.
Nicholson Funeral Home is serving the family.