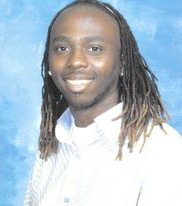 Victor Lejuan Wilkes, 43, of Statesville, N.C., passed away Sunday, November 28, 2021, in Statesville. Born in Catawba County, N.C., on September 17, 1978, he was the son of Adeline Florine Wilkes and the late Melvin Bernard McCullough.
Victor was known to many as Ice, Phoenix, and Mrone Ofone. He was a fashionista in his own right. He loved to dress, make people laugh and rap. To some, he was "Lil Wayne." He was a graduate of Bandys High School. Along with his dad, Melvin Bernard McCullough, he was preceded in death by his maternal grandparents, Hayes Wilkes Jr. and Florella McCombs Wilkes; his paternal grandfather, Harvey Lee McCullough Jr.; godson, Leland Washington; and cousin, Rodney Hayes Wilkes.
Left to cherish his memory are his mother, Adeline Florene Wilkes; sons, Devantae Wilkes and Alijah Wilkes, both of Hickory, and Kamryn House of Harmony; brothers, Anthony Wilkes and Channing (Nichole) Wilkes, both of Statesville; paternal grandmother, Lois Flowers of Catawba; aunts, Robin (Jonathan) Dean and Lorrie Lawrence, both of Catawba, Madeline (Timothy) Fleming, Ruby (Tony) Hewitt, and Linda Gibbs, all of Newton, and Pamela Mauney of Hickory; uncles, Gerald Wilkes of Hickory, Charles McCullough of Claremont, Keith Wilkes of Catawba, Reggie Wilkes of Conver, and Harvey (Kinnie) McCullough of Charlotte; great aunts, Carol James, Estelle Wilson, Mary Wilkes, Georgia Lineberger, and Nancy McCombs; great uncles, Walker McCombs, Danny Wilkes, and Jamey Lee Wilkes; special friends, Meiko, Kevin, Stacy, Tracy, Emmie, TJ, Cherish, Shannon, Kisha, Tina, Eric, Tejuan, Tim, Lisa, Pierre, and many, many more. He is also survived by a number of nieces, nephews, and cousins.
A Memorial Service will be held on Saturday, December 4, 2021, at 1 p.m. at Brown's Chapel United Methodist Church in Catawba. The family will receive friends on Saturday from 12 noon to 1 p.m. at the church, prior to the service.
Burke Mortuary & Crematory in Newton is serving the Wilkes family.