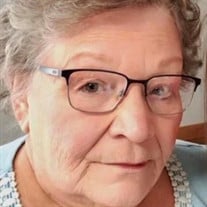 Wanda Jo Spivey Moose, 79, of Mooresville, N.C., and formerly of Swannanoa, N.C., went to be with the Lord on Thursday, November 11, 2021, at Iredell Memorial Hospital. She was born on January 20, 1942, in Asheville, N.C., to the late Henry D. Spivey and Imogene Anderson Spivey.
In addition to her parents, she was preceded in death by a daughter, Tosha L. Rogers, and granddaughter, Lucy Beth Moore.
Wanda worked for Beauty Maid Mills in Statesville for 15 years. She graduated from Salisbury Business College in 1989 with a certificate in Junior Accounting. She worked for Permanent Placement Services in Salisbury for three years and worked for Roy Moose Acoustical with her husband from 1992-1997. Wanda was a Certified Tax Preparer as well. She was an avid bowler for many years. She coached many young bowlers for many years and several of them obtained scholarships through her training. Wanda loved flowers and had beautiful Christmas and Easter cactuses. She loved spending time with her family. She was a devoted wife for over 35 years.
She is survived by her loving husband, Roy L. Moose; children: Jeff Spivey (Janice) of Milton, Fla., Shelly Belt (Todd) of Mooresville, Shane Moore (Harriet) of Salisbury, N.C., Candice Blanchett of Rock Hill, S.C., Christy Moose (James) of Seneca, S.C., Roy Moose Jr. (Dottie) of Salisbury, N.C., and Eric Rogers (Tosha) of Cleveland, N.C.; 15 grandchildren and six great-grandchildren.
A Memorial Service will be held on Wednesday, November 17, at 3 p.m. in the Chapel of Cavin-Cook Funeral Home.
For those who are unable to attend the service, you may go to the following link for the live stream
https://www.youtube.com/channel/UC864hAs96dTRLVVL1la0Qlw/videos?view=2&flow=list
The burial will be in the Salisbury National Cemetery at a later date.
In lieu of flowers, memorials may be made to The Susan G. Komen Breast Cancer Foundation, Charlotte Affiliate, 505 East Blvd., Suite 101, Charlotte, NC 28203.
Cavin-Cook Funeral Home and Crematory, Mooresville, is serving the Moose family. Condolences may be sent to the family at www.cavin-cook.com.