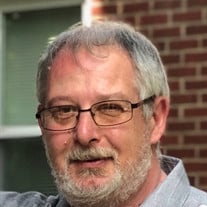 Robert "Bob" Bruce Ferry, 58, of Mooresville, N.C., and formerly of Whitman/Brockton, Mass., peacefully entered into rest on Tuesday, November 9, 2021, surrounded by his loving family.
He was born on February 2, 1963, in Quincy, Mass., to the late Edmund Ferry Jr., and Dorothy L. Ferry.
Bob was an avid Boston sports fan who loved to root for his New England Patriots, Boston Bruins and Boston Red Sox. He also loved watching Little League Baseball. He was a homebody who liked to cook and spend time with his wife, kids and grandchildren. He gave the best advice and words of wisdom.
Bob did a lot of camping and fishing throughout his life with friends and family. He enjoyed occasional trips to Virginia and North Carolina mountains, where he loved to visit Mayberry in Mount Airy, N.C., (where The Andy Griffith show was filmed) and the history of the town.
He worked as Lead Supervisor at Parker Precision Fluidics, where he displayed a wonderful knack for solving problems and was a mentor to many. He was very passionate about his work and his work family. Most important to Bob was his family. He will forever be remembered as a devoted husband, loving father, brother, papa/grandpa and caring friend.
He is survived by his loving wife, Barbara Ferry; daughters, Courtney Williams, and Jamie Ferry and husband Mike Richardson, all of Mooresville, Cynthia Beam and husband Jason Beam of Statesville, N.C., Stacey Cutting-Lawrence and husband David of Middleboro, Mass., and Michelle Cutting of Somerset, Mass.; sisters, Cheryl Proffit and Donna Ernest, both of Pascoag, R.I., and Kimberly Cabral and husband Mario of Las Vegas, Nev.; five grandchildren and many nieces and nephews.
A Celebration of Life will be held at a later date.
The family would like to extend their sincere appreciation to all the Hospice nurses, hospital nurses, as well as friends and family for their unwavering compassion and supportive care that has been provided. Your kindness will never be forgotten.
Flowers can be sent to Barbara Ferry, 157 Whitman Circle, Mooresville, NC 28115. In lieu of flowers, memorials may be made to the S. Mitchell Mack Hospice House, 1325 S. Mecklenburg Highway, Mooresville, NC 28115.
Cavin-Cook Funeral Home and Crematory, Mooresville, is serving the Ferry family. Condolences may be sent to the family at www.cavin-cook.com.