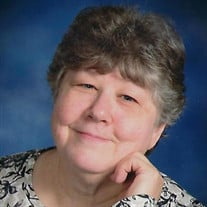 On Monday, October 11, 2021, Wanda Ostwalt left her earthly home and entered the gates of Heaven. She was the daughter of the late Wayne Propst and Mary Cline, and she was married to Lloyd Dale Ostwalt.
Wanda was a member of Monticello Baptist Church in Statesville and was retired from the school system. She loved to read her Bible daily and post scripture to Facebook, telling others about Jesus. She loved crocheting scarves and doing sudoku puzzles, and she loved to learn about everything.
Those left behind to cherish her memory are her children, Carolyn Pelland (Joseph), and Waynette Campbell (Robert Jr.); grandchildren, TJ Pelphrey, Ty Campbell, Chance Campbell, and Bryce Campbell; sister, Sharon Walker (Jerry); brother, James "Frankie" Cline (Deb); her "Pop," James Cline; and numerous aunts, cousins, nieces and nephews.
The family will receive friends from 1 to 3 pm, on Thursday, October 14, 2021, at Nicholson Funeral Home. A graveside service will be held at 3:30 p.m. at Oakwood Cemetery with Dr. James Smith officiating.
Honoring Mrs. Ostwalt as pallbearers will be Joe, TJ, Ty, Bobby, Jerry, Chance and Jeremy.
Online condolences may be made to the family at www.nicholsonfunerals.com.
Nicholson Funeral Home has the honor of serving the family.