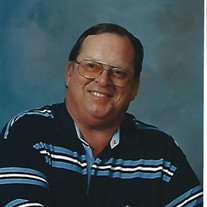 Wayne "Cornbread" Stewart, 77, of Statesville, N.C., died Thursday April 8, 2021 at Mapleleaf Health Care Center in Statesville. Born in Portsmouth, Va., on May 12, 1943, he was a son of the late Parks Lee Stewart and Dorothy Lee Cashion Stewart.
He was a graduate of Celeste Henkel School and enjoyed attending their reunions. He was a member of Fairview Baptist Church and served as a Trustee for a few years. He liked NASCAR and the Atlanta Braves. He was a member of the now disbanded Monticello Ruritan Club. He was a retired board member for the Monticello Volunteer Fire Department.
Cornbread worked for Bell Construction Company for 43 years as a grade foreman until his retirement. He then worked part time for Stan and Janice Elder. He also helped James Overcash with his drag racing for a few years. But Cornbread really liked his rocking chair under the carport, talking with friends and recycling.
Survivors include his wife, Libby Benton Stewart; a son, Jonathan Stewart; a daughter, Susan Stewart; and two sisters, Becky Pruett and Carolyn Poole.
Funeral services are scheduled for 4 p.m. on Monday, April 12, 2021, at Fairview Baptist Church with Dr. Scott Eanes and Rev. Paul Hill officiating. The family will greet friends for one hour prior to the service and burial will follow in the church cemetery.
Condolences may be sent online to the family to www.nicholsonfunerals.com. Memorials may be given to Fairview Baptist Church, 349 Turnersburg Highway, Statesville, NC 28625 or to Monticello Volunteer Fire Department, 160 Travis Loop, Statesville, NC 28677.
Nicholson Funeral Home is entrusted with the arrangements.