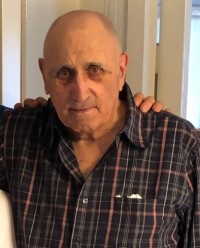 Wayne James Laws, 87, of Statesville, N.C., died November 18, 2021 at his residence with his family.
He was born July 31, 1935, in Wilkes County, N.C., the son of the late Croby and Ester (Greer) Laws.
Wayne was also preceded in death by a son, Donald Wayne Laws; a brother, Billy, and sister, Lois.
He attended school in Wilkes County. He served his country in the U.S. Army, and later become a self-employed carpenter.
Survivors include his loving wife of 68 years, Wilma (Johnson) Laws; sons, Mike Laws (Kay Oliver) of Lawndale, and Mark Laws (Ellen) of Statesville; brother, Harold Dean Laws (Brenda) of Elkin; sisters, Dorothy Yale of Yadkinville, Geneva Higgins of Millers Creek, Cynthia Huffman (Danny) of Wilkesboro, Joyce Anderson (John) of Wilkes County, and Arlee Livingston of Hickory; grandchildren, David Laws, Kimberly Stien, Jessica Applegate, Holly Woods, Lindsey Laws, Hannah Warnick, Wesley Laws, Chris Laws, Elizabeth Laws, and Karla Laws; and 17 great grandchildren.
A graveside service will be held at 11 a.m. on Tuesday, November 23, 2021, at Iredell Memorial Park Cemetery.
Reavis Funeral Home of Statesville is honored to serve the family.