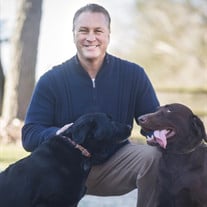 Robert Alan Blanton, lovingly known as Bobby, was called into Heaven completely unexpectedly at age 60 on October 18, 2021.
He was born on March 11, 1961, one of three sons to parents, James Lee "Country" Blanton and Barbara Jane Nagel Blanton, in Prince George County, Md. He was raised in College Park, Ga., and graduated from MD Collins High School.
An avid, talented athlete competing in baseball, football, and basketball, he rarely made apologies for being a fierce competitor.
Bobby's father worked as an airplane mechanic and opened the door for all three sons to enter the airline industry for their careers. Bobby began with Piedmont Airlines in the Catering Department, eventually being promoted into the Customer Service Department, where he faithfully worked for almost 25 years with US Airways in Atlanta, Ft. Lauderdale and Charlotte.
Many long-lasting friendships were formed both while working and playing locally and regionally competitive men's league softball during those years.
In 1996 he married his soulmate and love of his life, Donice; however, he often said that their journey together was divinely changed when they both surrendered their life directions after accepting Jesus Christ as their personal Savior at the Billy Graham Crusade in Charlotte. The message was "The value of a soul" and their decision forever changed the paths of their entire family.
Bobby was a football and baseball coach locally for over 20 years. He always wanted to pour encouragement and guidance over his sons and every one of their friends as often as possible. However, he boasted that becoming a proud "Dance Dad' for Malaina at The Academy of Dance & Fine Arts was his new passion. He equally rooted for those talented performing dancers like he had all the years at the ballfields. We will carry on his pancake and bacon breakfast in his memory during Birthday celebrations.
Bobby had a rare gift of comfortable conversation with anyone, anywhere. He always talked about his five children, each of their accomplishments and how proud he was of them. He could also weave in an introduction to his testimony as a changed man, believing in the promises of the Bible and often talked about Heaven. He had the heart of an Evangelist and after teaching children and youth-aged Sunday school for many years, he returned from the dream trip of his life to Israel and felt God urging him to teach men. Being a faithful servant, he did just that and what started with four men sharing a meal prepared by Donice in their living room. This grew into a weekly Bible Study that lasted 10 years. That "Band of Brothers" study was life-altering and God-honoring for an amazing season in his family's life and others. He gave all the glory to God for the salvations and personal growth of many.
Bobby was a true outdoors man enjoying fishing and hunting. The alone time in a deer stand was his favorite time to talk to God and he never missed a season. He cherished deep friendships with his hunting partners.
His family meant everything to him. He had a unique love language with his overseeing hand of provision, yet intently focused on being the Godly leader of the household. He lived knowing the children would all have many friends, but only one father. He often quoted Luke 12:48: "To whom much is given, much will be required," which is why he was an avid student of The Word, seeking wisdom from above with a thankful heart because of the abundant blessings of his wife and children. He planned ahead for every year's summer beach trip and winter ski trips because time with family is the greatest gift one can give.
Survivors include his wife, Donice Wheeler Blanton; oldest daughter, Ashley Nicole Blanton; three sons, Robert Alan Blanton II, Christopher Michael Blanton, and Brock Christian Blanton; and youngest daughter, Malaina Grace Blanton. Also surviving are his eldest brother, Jim Blanton and wife Kim, their children, and his youngest brother, Ronnie Blanton and wife Orpah; and mother-in-law, Glenda C. Wheeler, all of whom he loved dearly. His first wife of his youth, Dorothy "Dotti" J. Workman Blanton; aunts, uncles, nieces, nephews, cousins, and neighbors are all beloved.
He was preceded in death by both loving parents and father-in-law, Donald Wheeler.
His Life Celebration will be held at Southside Baptist Church in Mooresville, N.C .,on Sunday November 21, 2021, at 3:00 p.m. The family will receive friends from 1 to 2:30 p.m.
The family wishes to generously thank all for the outpouring of prayers, calls, visits, texts, and meal provisions during this time.
For those who are unable to attend the service, you may go to the following link for the live stream https://www.facebook.com/CavinCookFuneralHomeServices/
Cavin-Cook Funeral Home, Mooresville, is serving the family of Mr. Blanton. Condolences may be made to the family at www.cavin-cook.com.