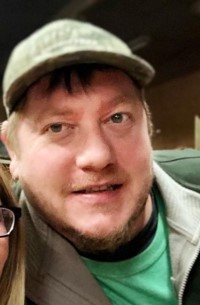 William "Billy" Joseph Martz Jr. was born after spaghetti night on October 20, 1985, to William "Bill" Joseph and Judith "Judy" Martz. He left this world on July 31, 2021.
Billy was a nationally recognized go-kart racer with the World Karting Association. He always had a love for animals, raising several cats, dogs, rabbits, and a pot belly pig. Billy became an avid outdoorsman with a love for hunting and fishing, like his father and grandfathers. He graduated from North Iredell High School in 2005.
Billy then followed in his father's footsteps, learning the family business at Controlled Rock Drilling and Blasting. His need for speed lead him into drag racing. When he wasn't speeding down the track, he loved and doted on his son, Dawson. If you knew Billy, you probably have a great story and that will be how he is remembered.
Billy was preceded in death by his grandparents, Robert and Joan Wormser, William Samual Martz, and Dave and Daisy Furman; nephew Liam Martz; and cousin Mark Wormser.
His surviving family members include his son, Dawson Crotts; parents, Bill and Judy Martz; sisters, Nicole Martz (Eric Bartlett) and Amanda (Clint, Brody, and June) Hutchins; aunts and uncles, Jimmy Martz, Nancy Martz, Bob (Anne) Wormser, Richard (Cindy) Wormser, and Dottie Wormser.
He is further survived by his cousins, Greg Martz (Michael), Christina (Chris, Katy, Emma, Olivia) King, Kevin Wormser (Destiny, Alana), Alex Wormser, and Brian Wormser; step grandmother, Risa Euffa, along with his extended family and way too many friends to count.
Visitation will be Friday August 6, 2021, at 2 p.m. at Olin United Methodist Church (653 Olin Road, Olin NC 28660) with the funeral service to begin at 3 p.m. at the church with a graveside service immediately after.
Condolences may be left online at www.bunchjohnsonfuneralhome.com.
Bunch-Johnson Funeral Home is honored to be serving the Martz family.