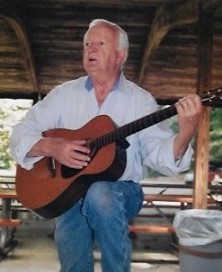 Willie B. "Bill" Murdock, 87, of Statesville, N.C., passed away peacefully on Sunday, August 29, 2021, at the Gordon Hospice House.
Bill was born October 25, 1933, in Iredell County and was the son of late Thomas Hoyt Murdock and Mattie Lou Parlier Murdock. He was a graduate of Cool Spring High School and served in the U.S. Army. On November 7, 1953, he was married to Eugenia Privette "Jeanie" Murdock, who survives. Together they raised two children and were members of First Baptist Church, where he served the church in many different areas. Bill was a faithful servant to our Father. He was a man of his word with dignity in everything he did.
He was self-employed as a brick mason and earned the title of "Master Brick Mason" because of his beautiful work. He and Jeanie developed the properties on Maplewood Lane and took great pride in having such lovely homes and wonderful families in those homes. To them, Bill was the "Mayor of Maplewood Lane."
Bill had so many friends, whom he dearly loved and admired. He knew his wealth in the love and friendship he gave and received far outweighed anything that he could ever have on earth.
In addition to his wife of 67 years, Bill is survived by one daughter, Angie Shook and husband Brad of Statesville; five grandchildren, Hannah Welcher (Robby), Emily Reynolds (Troy), Rebecca Barnette, Lucas Beaver (Spenser), and Zoe Kerik (Michael); and 10 great grandchildren, Kayden and Ava Barnette, Caroline and Alyson Kerik, Teal, Doc and Arlo Reynolds, Knox, and Chloe and Gage Welcher; and bonus granddaughter, Hannah Shook Parris (Ethan) and their son Hayden. He is also survived by two daughters-in-law, Bow Murdock and Patti Daniels; one brother-in-law, Victor O. McIntyre; one sister-in-law, Joan Privette Connor (Buddy); several nieces and nephews; and bonus daughter, Wanda Furches (Bill).
Bill was preceded in death by one son, William Anthony "Tony" Murdock in 2003; one sister, Louise M. McIntrye; and two brothers, Henry H. Murdock and Milton P. Murdock; and one great granddaughter Haddie Barnette.
Our family would like to thank each and every one of you that contributed to being a part of his life. He loved you all!
A special thank you to Stan and to Gordon Hospice Home Care and Gordon Hospice House. He received such love and care.
A celebration of life service will be held at a later date.
Memorials may be made to Alzheimer's/Dementia Research, First Baptist Church of Statesville, N.C., Gordon Hospice House, Statesville, N.C., or to a charity of your choice.
Troutman Funeral Home is serving the family.