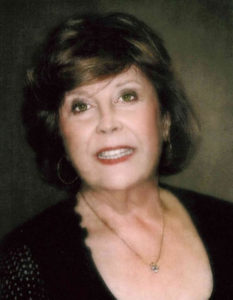 Ann Holt Sherrill Godfrey, 79, of Statesville, N.C., passed away peacefully and surrounded by her family in her home on Friday, November 11, 2022.
Ann was born April 19, 1943, to the late Francis Holt Sherrill and Selma Word Dishmon Sherrill.
Surviving is her husband of 61 years, Marshall L. Godfrey of the home; and her children, Sherrill Ann Godfrey of Statesville, Jane Godfrey Scalese of Raleigh, and Josh (Tammy) Godfrey of Statesville. Also, left to cherish her sweet memories are her grandchildren, who lovingly called her "Nonny," John McKinney, Margaret McKinney, Will Godfrey, and Elizabeth Godfrey. She was preceded in death by her grandson, Samuel Godfrey.
Ann was a lifetime resident of Statesville, graduating from Scotts High School in 1961. She spent her life raising her children and then her grandchildren. Being "Nonny" to them was one of her most favorite things. Ann loved reading to them from one of her many classic children's novels.
In addition to her family life, Ann had many friends and extended family that she enjoyed spending time with. Times spent going to lunch, shopping, and traveling brought her a lot of happiness.
She particularly enjoyed traveling with her husband Marshall to the Pennsylvania Amish Country, Colonial Williamsburg in Virginia, and New York City, New York. Not one to shy away from any new adventures, she also visited various countries around the world.
Ann was a loving wife, and a devoted mom and grandmother. Ann had such a warm and giving heart. She always made time to hear about your day and make sure you had everything you needed. Her laugh was infectious, and her smile made you smile. She will be deeply and forever missed. We are so blessed to have loved her and to have been loved by her.
The family would like to extend our sincerest thank you to Hospice & Palliative Care of Iredell County for their support, attentiveness, and compassion.
Funeral services for the family of Ann Godfrey will be held at Troutman Funeral Home on Tuesday, November 15, 2022, at 2 p.m. A burial will follow at Iredell Memorial Gardens. The Family will receive friends from 12:30 to 2 p.m. prior to the service.
In Lieu of Flowers, donations can be sent to Hospice &Palliative Care of Iredell County. Online condolences may be made to the family at www.troutmanfuneralhome.com.
Troutman Funeral Home is serving the family.