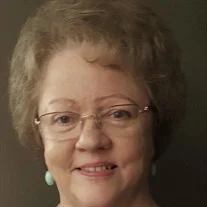 Mrs. Annette Redmond, 71, of Union Grove, N.C., passed away Thursday, December 8, 2022, at Atrium Health Wake Forest Baptist Hospital in Winston-Salem, N.C., surrounded by her children. She was born October 19, 1951, daughter of Benjamin Everett Shoulars and Margaret Shoulars.
Annette is survived by her three children, David Marshall Redmond Jr., Leigh Ellen Redmond and Benjamin (Madeline) Redmond; and her four grandchildren, Paisley, Liam, Maddie, and Halli.
She was proceeded in death by her husband of 39 years, Dr. David "Marshall" Redmond; her father, Benjamin Everett Shoulars; and her mother, Margaret Shoulars.
Annette was a graduate of East Carolina University, earning a bachelor's degree in education. She also achieved a master's in mathematics from Appalachian State University. She faithfully served as a math teacher at Starmount High School in Yadkin County for 25 years. Prior to working at Starmount High School, she served at Bear Grass High School in Martin County, where she met her husband, Marshall.
Annette was an incredible support to her family and loved them selflessly. She was a faithful and inspirational source of encouragement to her husband, children, and grandchildren. Annette was a member of Grassy Knob Baptist Church.
The family will receive friends from 1 to 2 p.m. Monday, December 12, 2022, at Grassy Knob Baptist Church. Funeral Services will be held at 2 p.m. at the church with Pastor Scott Chenevey officiating. Burial will follow in Grassy Knob Baptist Church Cemetery.
The family would like to thank Pat Redmond for her caregiving support of Annette. The family would also like to thank the staff of the Cardiac Unit at Atrium Health Wake Forest Baptist Hospital in Winston-Salem, N.C., for their diligent and compassionate care.
For those who wish, memorial contributions may be made in honor of Annette Redmond to Grassy Knob Baptist Church, 333 Grassy Knob Road, Union Grove, NC 28689 or to Samaritan's Purse, 801 Bamboo Road, Boone, NC 28606 (www.samaritanspurse.org).
Online condolences may be made to the family at www.nicholsonfunerals.com.
Nicholson Funeral Home has the honor of serving the family.