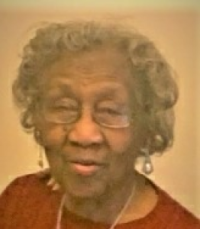 Mrs. Annie Mae Hargrove Taggert, daughter of the late Albert Timothy and Birdie Mayfield Hargrove, was born on October 20, 1929, in Rowan County, N.C. She was the oldest of nine children. Her siblings, Cornelius Hargrove, Sally Marie Hargrove Carr, Frances Hargrove Hollman and Elton Hargrove, preceded her in death. She departed this life at Trinity Village in Hickory, N.C., on March 18, 2022.
Annie Mae was educated in the Davie County School System and was a 1949 graduate of Davie County Training School. She retired from Burlington Industries of Mooresville in 1964. She enjoyed sewing, crafting and baking.
She joined Erwin Temple C.M.E. Church at an early age. In 1953, she wed Howard C. Taggert Jr. and joined Mount Tabor Presbyterian Church, where she was a faithful member for many years. She was a member of the Presbyterian Women, served as an Elder, and was a faithful supporter of the Christian Education Committee.
In addition to her parents and siblings, she was preceded in death by her husband, Howard C. "Jack" Taggert Jr., on April 20, 2019.
Those left to celebrate her life are daughters, Kathy Taggert and Rita Taggert, both of Statesville, N.C.; brother, Ernest (Nellie) Hargrove of Mocksville, N.C.; sisters, Albert H. McEachern of Salisbury, N.C., Ethel H. Collins Trimiar of Mocksville, N.C., and Beaureane H. (William) Polk of Harrisburg, N.C.; sisters-in-law, Eller Weese Hargrove of Cooleemee, N.C., and Phyllis Hargrove of Burlington, N.J., and a host of niece, nephews, and loved ones who will cherish her memory.
Celebration of Life Services will be conducted Wednesday, March 23, 2022, at 12 noon at Rutledge and Bighan Funeral Home in Statesville, N.C. Dr. Ethel Bamberg-Revis will officiate, and burial will follow on Tuesday, March 29, 2022, at 11 a.m. in The National Cemetery in Salisbury, N.C. Mrs. Taggert will remain at Rutledge and Bigham Funeral Home, where members of the family will receive friends from 11 a.m. until 12 noon, but will assemble at the residence at 646 Triplett Road, Cleveland, N.C., at other times.
In addition to flowers, please make donations to the Iredell Day Services Elder Center.
The family of the late Annie Mae Hargrove Taggert greatly appreciates the many expressions of kindness, support, and love you have shown to us during this period of bereavement.
Thanks for the excellent care provided daily. Because of the love and service extended by you, Mom's days were brighter. Special thanks to Mrs. Roberta Dula – our In-home Caregiver; Iredell Adult Day Services, Trinity Village in Hickory; and special caregivers and neighbors, including Tara Reid, Mary and Oscar Patterson, Chris and Pat Weber, Camero Wilson, Spencer and Crystal Dagenhardt, Joe and Eyvette Isaac.
We thank each of you for loving and caring for Annie Mae and for that we are eternally grateful.
Visit the Book of Memories for Mrs. Taggert at www.rutledgeandbigham.com.
Rutledge and Bigham Funeral Home is serving the Taggert Family.