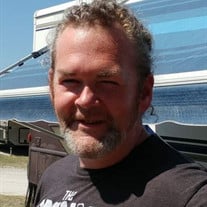 Anthony "Andy" Wayne Johnson, 46, of Mooresville, N.C., passed away on Saturday, October 8, 2022, at Gordon Hospice House Statesville in Statesville, N.C. He was born April 22, 1976, in Iredell County to Trena Parker Johnson and the late William "Buck" Harrison Johnson.
In addition to his father, he was also preceded in death by grandparents, George and Juanita Johnson and Leonard Wiggins.
He worked in logistics with Parker Trucking Company before his illness. Anthony was a member of Troutman Baptist Church. He enjoyed camping, artwork, cooking, and spending time with his furry friends, Harley and Taco, and his family and friends.
Anthony is survived by his mother, Trena Parker Johnson and step-father, Charles Saunders; brother, Brian Johnson of Harmony; uncles, Mark Parker of Statesville, and Jeff Parker and wife Tammy of Mooresville, and Lennie Wiggins of Blacksburg, S.C., Jason Cook of Mooresville, Adam Cook of Statesville, and Kevin Stutts and Adam Ryoti of Mooresville; niece, Madison Johnson; nephew, Cooper Johnson; cousins, Jordan and Michelle Parker, and Travis Wiggins; grandmother, Barbara Wiggins of Statesville; grandfather, Jesse "JR" Parker of Mooresville and wife Peggy; step-brother, Billy Saunders; step-sisters, Jessica Leazer, Shannon Whisnant and Niki Dietz; and many other aunts, uncles and cousins.
A graveside service will be held on Thursday, October 13, at 1 p.m., at St. Michael's Cemetery, Troutman, with Rev. John Stevenson officiating. Visitation for family and friends will follow the graveside service at Troutman Baptist Church.
In lieu of flowers, memorials may be made to Hospice and Palliative Care of Iredell County, Gordon Hospice House, 2341 Simonton Road, Statesville, NC 28625.
Cavin-Cook Funeral Home and Crematory, Mooresville, is serving the Johnson family. Condolences may be sent to the family at www.cavin-cook.com.