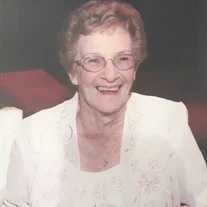 Arlene Faye Grubb Gould, 94, of Statesville, N.C., passed away on April 30, 2022. She was born on August 3, 1927, in Detroit, Mich., to the late William and Mildred Hill Millspaugh.
Arlene graduated college from Olivet Nazarene College with a degree in music. She taught music for many years and gave private voice and piano lessons. She married Paul Grubb in 1950, and they were married 46 years before his passing in 1996. She was the pianist at Mansfield First Church of the Nazarene in Ohio. After moving to Florida more than 40 years ago, she worked on the sales floor at Off 5th Store. There she attended the Bradenton First Church of the Nazarene, where she enjoyed singing in the choir. After the death of her first husband, she reconnected with and married Art Gould, who was her college sweetheart. They were married for 13 years before he passed away in 2021. She liked to do word searches and crossword puzzles. She loved gardening and taking care of her flowers. She mowed her own grass until she was 93 years old. She always enjoyed cooking for her family and was an avid traveler. Arlene was also an avid chocolate lover. She was deeply loved by her family and will greatly missed.
In addition to her parents, Arlene was preceded in death by her first husband, Paul D. Grubb, and her second husband, Art W. Gould.
She is survived by her sons, Michael D. Grubb and Donald P. Grubb (Sherry); daughter, Gayle Johnson (Mike); grandchildren, Andrea Young and her children, Jaden, Josh, Justus and Jace, and Brittany Hodgson and her children, Tanis, Mila, Rilan, and Kail.
A visitation will be held on Monday, May 9, 2022, from 3 to 4 p.m. at The Bridge Church, Mooresville, N.C. A funeral service will immediately follow the visitation with Pastor Dan West officiating. Burial will be at Mansion Memorial Park, Ellenton, Fla., on Thursday, May 12, 2022, at 10 a.m. with Pastor Herb McMillen officiating.
In lieu of flowers, memorial donations can be made to The Bridge Church, 2940 Charlotte Highway, Mooresville, NC 28117.
Cavin-Cook Funeral Home & Crematory, Mooresville, is serving the Gould family. Condolences may be made to the family at www.cavin-cook.com.