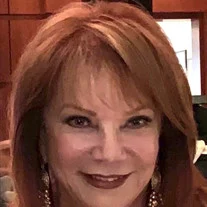 Arlene Malchow Hobart departed from this life on December 25, 2022, at the age of 72. In true Arlene fashion, she spent her last moments on Earth with freshly painted nails and impeccable lashes, in the presence of the family she so adored.
Born on February 2, 1950 in Southgate, Calif., Arlene spent her childhood dancing and inventing new hairstyles in the company of her siblings, Dennis Malchow, Georgianna Malchow Trexler, and Debbie Malchow Yount. Her parents, Willy and Arliss Malchow (Hopper), instilled in her many positive traits, and Arlene grew to embody the hospitality and warm-heartedness of her mother. As her childhood came to an end, Arlene emerged a beautiful, fun-loving young woman. She loved to attend dances, where her effervescence and charm captivated many — especially her soon-to-be soulmate, Randy Hobart, whom she married in 1968 in a garden ceremony. The 1970s graced Randy and Arlene with their two beloved children, Andrea Hobart Shirey and Chris Hobart. While Arlene certainly prioritized raising her kids, her entrepreneurial spirit propelled her to open several small, yet successful cosmetology businesses over the years. Eventually, with Randy as a partner, Arlene would help to found the nation's most expansive distributor of large format printers — a testament to her industriousness and strong work ethic.
As time passed, Arlene watched her children grow into kind, smart, and successful individuals who would soon establish families of their own. In 1998, Arlene welcomed her first grandchild, Emma Shirey Ondek, to be followed by grandson, Will Shirey, and granddaughters, Sloane and Blythe Hobart. A doting grandmother whose answer to a skinned knee was a band-aid and a kitten, Arlene always took care to spoil her grandchildren during their visits to her North Carolina home. As precious to Arlene as her family was the faith that informed both her outlook on life and the way that she treated those around her. A strong Christian notorious for her boldness in faith, Arlene could often be found praying for complete strangers in a coffee shop or grocery store. Her kindness and ability to empathize with others served those she encountered well, and were a constant source of joy and comfort to her family. Over the course of her life, Arlene lived in five different states (California, Texas, Pennsylvania, North Carolina, and Florida), and traveled to a myriad of countries with Randy at her side. She lived a full life, and utilized her time on Earth to love others well. Arlene will ever be remembered for her kindness, spunk, and deep love for family — not to mention, her signature red hair and red nails. Her legacy will live on through those who knew and loved her.
Funeral services will be held at 11 a.m. on Wednesday, January 4, 2023, at the chapel of Cavin-Cook Funeral Home with Rev. Robert Jackson officiating. Burial will follow the service at Willow Valley Cemetery, Mooresville. The family will receive friends from 5 to 7 p.m. on Tuesday, January 3, 2023, at Cavin-Cook Funeral Home.
Cavin-Cook Funeral Home & Crematory, Mooresville, is serving the family.