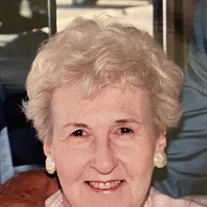 Audrey Leif Muller, 92, of Mooresville, N.C., and formerly of Riverbend, N.C., peacefully went to be with her Lord and Savior on Sunday, September 18, 2022. She was at home surrounded by her loving daughter Cindy.
She was born March 24, 1930, in New York, N.Y., the daughter of the late Leon and Sylvia Oppenheim. In addition to her parents, she was preceded in death by her sister, Joan Mills; husband Frank Muller; and son, Kerry Leif.
Audrey was independent, loving, caring and spiritual. She gave to everyone around her and walked the word of the Lord. She was brilliant and graduated from the New York Institute of Technology at the age of 50 with a master's degree and summa cum laude. She then became a Professor of Psychology, where she developed and wrote course material.
She had a wonderful marriage and shared the adventures of the seas with Frank, sailing on their boat from Maine to the Bahamas and back.
She taught herself how to play the piano, wrote almost 1,000 poems, traveled the world and sang songs ranging from Church hymns to Christmas carols. She was also a crossword puzzle wiz and read no less than one book a day.
She was an entertainer and loved to be around those she loved. The family extends their profound thanks and appreciation for all the support and compassion.
She leaves a lasting legacy to be cherished by her survivors, her daughter, Cindy Leif, and son-in-law, Sam Duncan; son, Frank Muller; grandchildren, Emmalee Muller, Matthew Muller and wife Samantha; great-grandson, Roran; daughter, Patti Muller Lerner, and husband Bob; granddaughter, Elizabeth Lerner Stano and husband Alex; great-granddaughter, Coraline; grandson, Christopher Capalbo, and wife Jill; great-grandson, Thomas; daughter-in-law, Janet Oliveri Ferraro, and husband Karl; and grandchildren, Christina, Amy, Jonathon, and David; and a host of nieces, nephews and friends.
A Celebration of Life service will be held at the Heritage House (Cavin-Cook Funeral Home) in Mooresville on Friday, September 23, 2022, from 6 to 8 p.m. In lieu of flowers, memorial donations may be made to The Seeing Eye or The Salvation Army.
Cavin-Cook Funeral Home, Mooresville, is serving the Muller family. Condolences may be made to the family at www.cavin-cook.com.