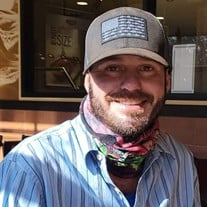 Eric Keith Mowdy, 36, of Mooresville, N.C., passed away on Saturday, September 17, 2022.
He was born on November 27, 1985, in Orlando, Fla., to Alfred and Theresa Jean Boyd Mowdy. Eric was a member of the Lake Norman Church of Latter Day Saints. He enjoyed hunting, fishing, and going to the gun range. He loved sushi. Eric was a hard worker, funny, and a jokester.
He was preceded in death by his fiancée, April Nicole Cox.
In addition to his parents, Alfred and Theresa Jean, he is survived by his sons, Derrick and Clifford Mowdy; brother, Michael Mowdy (Christy Thaxton); and niece, Naomi Mowdy.
No services will be held at this time.
Cavin-Cook Funeral Home & Crematory, Mooresville, is serving the Mowdy family. Condolences may be made to the family at www.cavin-cook.com.