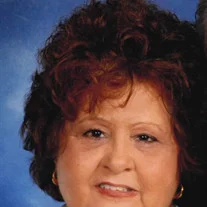 Audrey Lenior Pitts, 74, of Troutman, N.C., began her journey to her Heavenly home on September 6, 2022, to be welcomed into the loving arms of the Lord.
She was preceded in death by her father, T.A. Lenoir (Ritha); her mother, Ruth Fuller (Joe); her step-son, Ricky Pitts; and her son, Douglas "Bubba" Osborne.
She is survived by her loving husband, William "Bill" Pitts of Troutman, N.C.; daughter, Lynn Haynes of Troutman, N.C.; step-son, Bill Pitts Jr. (Patty) of Florida; grand"son," Chance Osborne (Kammie) of McDonough, Ga.; and sister Barbara Grimsley (Dewie) of Alabama. Audrey had nine grandchildren and 14 great grandchildren, all of whom she loved with all her heart.
Audrey was a nurse by profession. She worked Labor and Delivery for many years. She was happiest when all her family and friends gathered for her homecooking — having her family together brought her pure joy. She had a talent for making beautiful flower arrangements. She liked to make Christmas arrangements and take them to the local nursing and rehabilitation center to share with others. She loved all animals and was known to always choose the dog at the shelter that no one else wanted. Audrey will forever be remember for having a kind, generous and loving heart.
The family will receive friends on Monday, September 12, from 11 a.m. to 12 noon with a celebration of Audrey's life following at 12 noon at Cavin-Cook Funeral Home in Mooresville with Rev. Jamie Hamrick officiating. Audrey will be laid to rest at 2 p.m. at the Salisbury National Cemetery in Salisbury, N.C.
The family wishes to thank Iredell Hospice for all their love and amazing care during her last few months.
As an expression of sympathy, the family asks for donations to a charity that was near and dear to Audrey's heart, your local Hospice, or St. Jude Children's Hospital.
Cavin-Cook Funeral Home & Crematory, Mooresville, is serving the family of Mrs. Pitts. Condolences may be made to the family at www.cavin-cook.com.