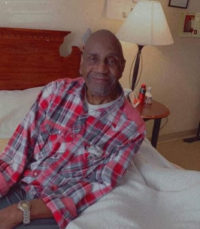 Mr. Bennie Strickland, 91, son of the late Truitt and Johnnie B. Strickland, was born September 25, 1930, in La Grange, Ga. He departed this life on Wednesday, August 24, 2022 at the Gordon Hospice House in Statesville, N.C. He was preceded in death by his parents; sister Ivy Lane Williamson; and brother Amos Strickland; a sister, Annie Truitt Burks; his only son, Reginald Parker Strickland I; one granddaughter, Ebony Lorice Gray Strickland; and a sister, Blanche Robinson.
At the age of seven, Bennie's family moved to Cleveland, Ohio, in 1937. He accepted Christ at a young age and was a member of The Providence Baptist Church, where he first began to sing with the church choir. At an early age, Bennie knew that he would sing and play for the Lord.
He then relocated to North Carolina in the early 1960s and began his singing ministry as the lead singer for several local Gospel Quartet groups that he formed himself. Mr. Bennie loved making music and was one of the most sought-after male high-pitched singers in the Southeast. He was passionate about not only singing but also looking good when doing so. He took pride in ensuring that everyone in his group 'Dressed to Impress." Matching vibrant colored suits and shiny accessories was always a must have when performing in public.
He also recorded and traveled around the country ministering in Louisiana, Ohio, Washington, D.C., Virginia, South Carolina, Georgia, and Kings Mountain, N.C.
While traveling with local Gospel Quartets, Mr. Bennie met, courted and married Garenel Bridges on October 17, 1969.
Mr. Bennie Strickland sung with the Thomas Brothers of Cleveland, Ohio, and was the founder and lead singer of the following Gospel Quartet Groups: The Five Stars, The DMS Celestials, The Stricklanetts and most recently, until his death, The Strickland Singers. Two of his favorite songs were "Operator" and "Sweepin through the City." Mr. Bennie was proud of all he'd accomplish as a Gospel Quartet singer and decided to record his own rendition of the song, "Operator."
Mr. Bennie was employed by Dole Mills in Shelby, N.C., and then later retired early from PP& G Mills in Waco, N.C., when he decided to play full-time for several local churches in Shelby, N.C., and Kings Mountain, N.C., areas, including FOCUS Missionary Baptist Church in Shelby.
In 2020, Bennie and his wife relocated to Statesville, N.C., where they attended New Faith Trinity Church.
He leaves to cherish his memory, his wife of 52 yrs Garenel Strickland; four daughters, Linda Strickland-Rencher (William), Lorice Banks and De'borah Strickland, all of Cleveland, Ohio, and Regina Strickland of Winston-Salem, N.C.; Special Daughter in Love, Treva Strickland Saunders (Reginald); ten grandchildren, Cornelius Strickland Sr., DeJuan Banks, Leroy Banks Sr., Jerlyn Banks-Edwards, Antoine Strickland Sr., RaJhene S. Wood, Reginald T. Strickland, Reginald P. Strickland II, Jaleil T. Strickland and Mone't Y. Strickland; thirteen Great grandchildren and five great-great grandchildren; and a host of nieces, nephews, other relatives and friends.
Special acknowledgements goes to his caretakers, Reginald P. Strickland II, Jaleil T. Strickland and Treva Strickland-Saunders.
Special Thanks to The Entire Brookdale Assistant Living Staff: Liz Turner, Whitney Singleton, Cierra Rouse, Brittany Herald, Ms. Barbara Eckles and Mr. Steve Ashby, Executive Director, and Atrium Health Wake Forest Baptist Staff in Winston-Salem, N.C., and Gordon Hospice House Staff of Statesville, NC.
Rutledge & Bigham Funeral Home is serving the family.