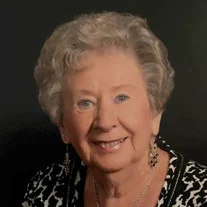 Betty Jean Moon Coone, 91, of Mooresville, N.C., passed away peacefully at home surrounded by her family on December 20, 2022. Betty was born in Madison County, Ga., on January 16, 1931, to the late Sam Elliott and Mary Lorene Hardman Moon.
After graduating from Cannon High School in Kannapolis, N.C., in 1949, she married Carl Webster Coone. They settled in Mooresville and enjoyed 73 years of marriage together. Betty was proud to have served under four superintendents during her many years at the Central Office of the Mooresville Graded School District, where she worked until her retirement. Prior to that, she was employed in the front office of Templon Spinning Mills. She worked as a homemaker while raising two daughters. She worked tirelessly to make sure her daughters were "raised right" and college-educated, and she herself achieved secretarial certifications from Mitchell Community College.
Betty is survived by her beloved husband Carl; her daughters, Debra Kolkebeck (Bruce) of Salisbury, N.C., and Crystal Armstrong (Ivan) of Greenville S.C.; her grandchildren, Kurtis Kolkebeck (Kelee) and great-granddaughter Emmalee (Mimi's pride and joy) of Mount Ulla, N.C., Evan Kolkebeck (Laura Maphis) of Erwin, Tenn., Elliot Dickerson (Mark Tufano) of Sterling, Va., and Kate Dickerson (Jake Lawson) of Sterling, Va.; her brother Billy Moon (Phyllis) of Chesapeake, Va.; her sister-in-law Dorothy Coone of Mooresville; and many loved cousins, nieces, and nephews.
Betty was a dedicated member of Mooresville First Baptist Church, where she was active in the choir, XYZ for seniors, and the Joy Sunday School class. She and Carl were founding members of a dominoes club with friends. She was an avid reader. She was a talented pianist, and in earlier years she played for gospel sing-alongs whenever family and friends gathered at the house. Betty made the world's best pear preserves and a killer coconut cake. She always kept a spotless house and was a great seamstress and quilter. She spent many summer hours canning and freezing the produce from the enormous backyard garden. Betty and Carl enjoyed travel and visited 49 of 50 states in the US. They were also members of two ballroom dance clubs. Betty loved the beach and in her later years enjoyed annual "girls' weekends" there with her daughters and granddaughter. She was a devoted and adored wife, an excellent Mom, and a loving Mimi to her grands.
A memorial service for Betty will be held at Mooresville First Baptist Church, 150 South Church Street, Mooresville, N.C., on Saturday, January 14, 2023, at 1 p.m. with Reverend Eddie Hicks officiating. Visitation will follow the service. Interment will be a private event for immediate family at Glenwood Memorial Park in Mooresville.
In lieu of flowers, the family asks that donations be made to the Mooresville First Baptist Church Music Program, 150 South Church Street, Mooresville NC 28115 or to Hospice of Iredell County, 2341 Simonton Road, Statesville NC 28625.
The family wishes to thank the dedicated caregivers of Jenlei's LLC and Chevy Nowak for their loving and caring assistance that has helped both Betty and Carl to enjoy their golden years living comfortably in their home. We also extend appreciation to the team at Hospice of Iredell County for making Betty's journey more peaceful.
Cavin-Cook Funeral Home & Crematory, Mooresville, is serving the family.