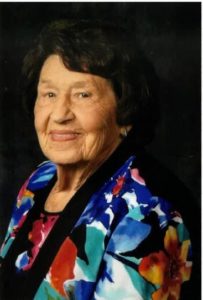 Betty Paige Anderson, 92, of Harmony, N.C., passed away Tuesday, August 16, 2022, in her home. She was born November 21, 1929, to Carl Eugene Paige and Bertha Irene Steelman of Forsyth County, N.C.
Betty is preceded in death by her parents, Carl and Bertha; husband, Bill Anderson; four sisters, and a brother.
Those left to cherish her memory are her son, Ray Anderson (Chris); daughter, Patricia Butler (Robert); son, Bobby Anderson (Edna); daughter, Marlene Hutchens (Dan); eight grandchildren, Lisa Anderson, Chad Butler (Jennifer), Eric Anderson (Amanda), Rodney Butler (Tina), Kirt Anderson (Jamie), Cheryl Hathcock (Seth), Bridgett Bailey (Casey), and April Lassiter (Michael); seventeen great grandchildren; six great great grandchildren; and one sister, Frankie Edwards.
Betty graduated from Harmony High School. She was a member of Clarksbury Methodist Church and was very active in church activities. She loved spending time with her family and traveling with friends. She loved playing cards, banana splits, and shopping.
Services for Betty are to be held at Clarksbury Methodist Church on Monday, August 22, 2022. Visitation is from 1:30 to 3 p.m. with funeral at 3 p.m. and burial to follow.
In lieu of flowers the family has requested donations be made to Clarksbury Church, St. Jude's Children's Hospital, and Hospice of Iredell County.
Bunch-Johnson Funeral Home is serving the family.