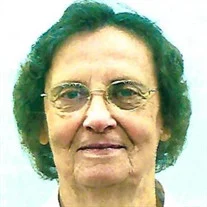 Heaven is much sweeter today as our mother, Dessa Naona White Privette, entered Heaven's gates on Tuesday, August 16, 2022. Dessa was saved at the age of 10 years old and served the Lord faithfully her entire life. She married the love of her life, Masie Paul Privette, on April 25, 1953. She was a faithful member since 1960 of St. Mark Baptist Church and served as a Sunday school teacher, nursery worker, choir member and church clerk.
Dessa was preceded in death by her mother, Lizzie White; her beloved husband, Masie Privette; and a brother, Dwight White.
She loved traveling, going on cruises and camping with her family. Forever in our minds we will be walking into her home smelling the aroma of her delicious homemade chicken and dumplings and biscuits. She made sure no one ever left hungry. Anything chocolate was her favorite dessert! She always had a smile on her face, and anyone that met her knew she was a Christian. She was an outstanding seamstress and enjoyed making crafts.
Those left to cherish her memory include two sons, Curtis Privette (Karen) and Mitchell Privette (Kimberlye); a daughter, Angelene Goodman; seven grandchildren, Shannon Goodman (Amy), Amber Norman (Patrick), Mandy Goodman, Manuel Privette (Holly), Micah Privette (Ashley), Hannah Nicholson (Matt), and Marybeth Horton (Derek); ten great-grandchildren, Justin Goodman, Abby Goodman, Kate Norman, Natalynn Privette, Ryleigh Nicholson, Finley Privette, Rhett Nicholson, twins Easton and Ellie Privette, and Benson Privette; and a sister-in-law, Lucy Privette.
A Funeral Service will be held Saturday, August 20, 2022, at 11 a.m. at St. Mark Baptist Church with Rev. Dale Milstead, Rev. James Smith and Rev. William Wease officiating. Burial will follow in the St. Mark Church Cemetery. The family will visit with friends on Friday evening from 6 to 8 p.m. at St. Mark Baptist Church.
In lieu of flowers, memorials may be given to St. Mark Baptist Church, 1852 Old Wilkesboro Highway, Statesville, NC 28625. Online condolences may be left at www.nicholsonfunerals.com.
Nicholson Funeral Home is honored to serve the Privette family.