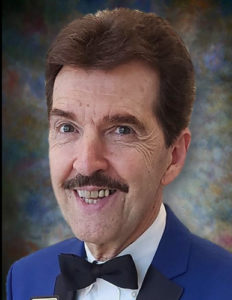 Bill Warren, 73, of Statesville, N.C., passed away peacefully at home on Tuesday, December 27, 2022. Bill had been in declining health for some time but, in typical Bill style, he fought the good fight and remained mentally alert to the very end. He was born March 23, 1949, in Iredell County, N.C., to the late James C. Warren Sr. and Lillian Bolin Warren.
Bill attended Cool Springs and North Iredell High School and graduated from Appalachian State University in 1971 with a major in psychology. While at Appalachian, he began to share his musical talent on stage as a pianist at Tweetsie Railroad. In March of 1973, Bill married his beloved wife and partner for life, Drinda. While raising their precious child, Stacie, the Warrens opened several local businesses through the years. Bill's style and Drinda's culinary skills provided Statesville with the best in food and entertainment: Reeo's Discoteque, Reeo's Restaurant, and Across the Street, which featured dancing, banquets, parties and dinner theaters and hosted groups like Chairman of the Board, The Catalinas, the Band of Oz and Herman's Hermits. In 1999, Bill and Drinda opened a retail furniture and accessories store, "Shops UpFront," which brought beautiful home décor (and an occasional impromptu piano concert on Bill's grand piano) to the community for more 23 years and is still a thriving family business today.
In 2007, Bill joined the Iredell Concert Association, which eventually became known as Performing Arts Live (PAL). He served on the board, then became president and eventually executive director. For over 15 years, he worked tirelessly, sharing his vision and passion for the arts, promoting and presenting many seasons of distinct and diverse performances from artists across the U.S. and the world. He was most proud of his work to expand PAL's mission by creating the Fund for Artist Development, which provides musical instruction to young musicians in our area. Prior to and throughout his illness, he served on the board of the North Carolina Presenters Consortium (NCPC). Bill was a born leader and served as treasurer and then vice President of NCPC.
During 2022, he was honored with a Proclamation from the Mayor and the City of Statesville for his work in expanding the arts and culture in Statesville for over 15 years. The theme of Bill's life has always been "Life without passion is no life at all." He lived that philosophy every single day of his life.
Those left to cherish Bill's memory include his loving wife of 49 years, Drinda A. Warren; his daughter, Stacie W. Josey and husband Josh; granddaughters, Emma and Ava Josey; and siblings, Margaret W. Flores, (Mario) and James Warren Jr. (Phyllis). Also surviving are his nieces and nephews, Michael Flores (Juliana), Mary C. Flores-Ott (Nick), Anthony Flores, John Warren (Jill) and David Warren.
Complete memorial service arrangements will be announced by Troutman Funeral Home.
In lieu of flowers, those wishing to make memorial contributions are asked to consider The Fund for Artist Development at http://PALofIredell.com or Performing Arts Live Iredell, P.O. Box 103, Statesville, NC 28687.
Troutman Funeral Home is serving the family.