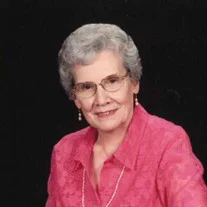 Billie Harwell Stutts of Mooresville, N.C., passed away on May 2, 2022. She was born April 4, 1933, and was a lifelong resident of Mooresville and lifelong member of Central United Methodist Church. Billie was the loving daughter of the late Herbert Alexander and Ethel Spurlin Harwell. She was preceded in death by her sister, Charlene Harwell McLaurin; brother-in-law, Lawrence McLaurin; and nephew, Larry McLaurin.
Billie was a graduate of Mooresville Senior High School, Class of 1951, where she was a proud member of the marching band and the Girls' Varsity Basketball team. She retired from Draymore Manufacturing Company and then during her retirement years assisted visitors at the Charles Mack Citizen's Center in Mooresville. She loved ice cream at the Deluxe Ice Cream store, shopping, trips to the beach and visiting family. Most importantly, she was a wonderful mother, grandmother and second mother to her sister Charlene's children after her death. She spent her adult life raising and teaching her children about love, service to others and respect of others. When her children were grown, she cared for and assisted her mother and father until their passing.
Billie will be greatly missed, but especially by those who she leaves behind, her three sons, Jeff and wife Darlene, Richard and spouse Bill Keith and Stanley Stutts and wife Kelly; grandchildren, Neil Stutts, Nick Stutts, Christopher Stutts, Kacey Elder and husband, Corey and Jenna Stutts; and great grandchildren, Tyler Sain and Corbin Elder.
Survivors also include her niece, Debbie McLaurin Keener (David), Emory McLaurin (Cynthia) and Crystal McLaurin, widow of Larry McLaurin.
The family will receive friends from 2 to 3:30 p.m. Sunday, May 8, 2022, at Cavin-Cook Funeral Home, Mooresville. A graveside service will be held at 10 a.m. Friday, May 6, 2022, at Glenwood Memorial Park, Mooresville, coordinated by Robertson Funeral and Cremation Service, Fort Mill, S.C.