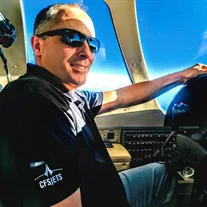 On Monday, April 11, 2022, Brian Patrick Campbell, loving husband and father of two beautiful girls, passed away at the age of 46.
He was born in Lubbock, Texas, on February 24, 1976, to Bill and Annell Campbell. Brian and his two siblings, David Campbell (Frisco, Texas) and Cori Armstrong (Austin, Texas) grew up as Navy Brats while their father Bill Campbell was an A-7 Pilot in the United States Navy. After Brian's father retired in 1978 the family relocated to Plano, Texas.
Brian graduated from Plano West High School in 1994. He decided to follow up in his father's footsteps and joined the United States Navy in 1999. Brian served as an Aviation Warfare Systems Operator and a (SAR) search and rescue swimmer for five years. It was while in the Navy that he met his lifelong partner Laura Campbell, whom he was married to for the last 22 years. The two of them fell in love immediately and were married prior to them being stationed in Atsugi, Japan, where they were stationed for 3 and 1/2 years. Both served their country for five years before returning to the United States.
Brian and Laura moved back to Texas to join their family in Frisco. Brian began his civilian career with CAE Simi-Flite promoting their flight simulation services for pilots that need annual training. While in Dallas, Brian completed his own personal pilot license training and soon began working to teach others as a flight instructor. Through his commitment to aviation and a passion for his job, Brian was promoted several times and ultimately relocated his wife and daughter Kylie to Simpsonville, S.C., in 2013. It didn't take long for Brian to make great business connections with his intense passion for everything aviation and his eagerness to learn. Brian took exceptional pride in the customer service that he provided his clients, and his talents were recognized in the industry quickly!
In 2014, Brian joined the team at CFS Jets. Led by his mentor and owner Mitch McCune, Brian quickly demonstrated that he was very eager to become a part of their aviation sales team.
Anyone that has known Brian knows that he can be sometimes quick-tempered at times and that he wore his feelings on his sleeve, but also knows that those traits were due to his sincere passion for everything that he did. Brian was "all in" on everything he did. Brian didn't like to have unresolved issues and worked tirelessly to excel in his career. Brian was promoted to Vice President of Sales for CFS Jets in 2020. Brian's career was literally taking off. He was wildly successful as usual and had the opportunity to travel the world doing what he loved while establishing new lifelong relationships.
Everyone that knew Brian knew about his love for aviation, but nothing compared to his love for his wife Laura and two beautiful daughters, Kylie and Keira, and all their personal friends. Brian was extremely witty, fun-loving and always carried a huge personality. He loved to make people laugh!
Brian and Laura have raised together two of the smartest, kindest and loving little girls to share with this world. His mark on this world has been made as an amazing husband, father, brother, co-worker, and best friend to so many. We are all so blessed to have known such a wonderful man who made us all laugh and our lives better for knowing him.
Brian is survived by his wife Laura Campbell and children, Kylie and Keira, of Mooresville, N.C., along with his brother, David Campbell and wife Eren Campbell and both of their children, Jaden and Elin Campbell, of Frisco, Texas, as well as his sister Cori Armstrong and niece and nephew Lauren Armstrong and Preston Armstrong.
A Celebration of Brian's life will be held at 3 p.m. on Saturday, April 16, at Cavin-Cook Funeral Home Chapel with Rev. Nate Garrett officiating. For those who are unable to attend the service, you may go to the following link for the live stream https://view.oneroomstreaming.com/authorise.php?k=1650051617178727
In lieu of flowers, a gofund me page has been established in honor of his children at https://gofund.me/371b8e96. All contributions will go to his children's college education fund.
Cavin-Cook Funeral Home & Crematory, Mooresville, is serving the Campbell family. Condolences may be made to the family at www.cavin-cook.com.