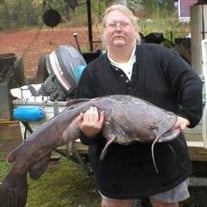 Kenneth Alden Flagg Jr., 63, of Mooresville, N.C., passed away on Tuesday, April 12, 2022 at Iredell Memorial Hospital in Statesville, N.C.
Ken was born on February 10, 1959, in Worcester, Mass.. to the late Kenneth Alden Flagg Sr. and Anne Louise Decatur Flagg. He was known as a Jack of all trades. In his earlier years, Ken worked as a tractor mechanic. He eventually turned his fishing hobby into a career, opening his own bait and tackle shop. Ken was a loving and devoted son, brother, uncle and brother-in-law. He loved fishing, bird watching and photography. Ken was also very involved with the stock market. He would have given anyone the shirt off of his back and was truly one of a kind.
He was preceded in death by his parents, Kenneth Flagg Sr. and Anne Decatur Flagg; and brother, Jeffrey Flagg.
He is survived by his sisters, Cynthia Flagg, Linda Wack and husband David Wack; sister-in-law, Stephanie Flagg; and nieces and nephews, Amy Wack, David Wack II, Katie O'Berry, Ashley Flagg, Austin Flagg, Amber W. Flagg, and Holly Smith.
A celebration of life will be held along with his brother Jeff's on Saturday, May 14, 2022, at 11 a.m. at Williamson's Chapel United Methodist Church, 575 Brawley School Road, Mooresville, NC. 28117.
Cavin-Cook Funeral Home & Crematory, Mooresville, is serving the Flagg family. Condolences may be made to the family at www.cavin-cook.com.