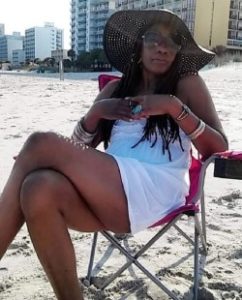 Carmen Viola Allen Smith, who was known as "Dee" (Our Jamaican Queen), was a Legend. She left a legacy.
She was the loving mother of LaToya Mone't Smith, Robertino Mickel Smith II, Kellie Carrie-Ann Smyre, and Nanny to their children, Aniyah Monyae Howell, Sir Titan Smith, Keilani Skye Dobbins, Worth Mickel Smith, Devante A'leon Patterson and Oriyan Steffon McDonald.
Carmen Left us for eternal life on Easter Sunday Morning, April 17, 2022, at 6:11 a.m. She was at home at peace with her oldest daughter and dog Chino when she took her last breath. She was always surrounded by Love! Her favorite phrase was "Love you Later."
Carmen was born July 27, 1958, in Cape May County, N.J., at 12:16 a.m. She was raised and attended school in the neighboring seaside city of Wildwood, N.J. She graduated from Wildwood High School in 1976 and went straight to the United States Army, where she served from August 5, 1976, to August 4, 1980, and was honorably discharged.
Carmen's parents were Ruth Cardelia Allen and James Author Allen.
From her youth, Carmen Allen was a member of the Eureka Baptist Church choir until she went off to join the United States Army. Carmen was the first black person in high school to be inducted into a high society club called Seasiders, which helped to serve her community. She was a member of the color guard gun squad all four years of high school. She was also a member of the homecoming court, being one of the first black students to achieve this position.
She lived in New Jersey, Germany, Maryland, and North Carolina, where she loved to call home. She loved her grandkids tremendously. She loved and gave from her heart to a lot of people. She loved to stay busy in her busy days. She was a choir director, she worked at the Social Security Administration, IBM and Bell South as a computer tech, Secretary, Party event & Character company, CNA, JRs, Cracker Barrel, and had a paper route with her youngest daughter.
Earth Wind and Fire's "Keep your Head to the Sky" was her favorite song. She went and saw them perform in October 2021. She loved her son's music and some Lil Boosie.
She loved to Live life to the fullest. She was always the life of the party. She always made songs and gave everybody nicknames. Everyone made special memories with her, and she had her own special relationship with everyone she came in contact with. Back in the day, she was the dance queen (that's what they say); that's how she got the name "Dee." She loved music and loved to party! She was loved so much.
Carmen leaves to cherish and honor her memory, her daughter, LaToya Smith, and Granny Aniyah Howell, her son, Robertino Smith, and grandsons, Sir Titan Smith and Worth Smith; her youngest daughter, Kellie Carrie-Ann Smyre, and granddaughter, Keilani Skye Dobbins. She was with her almost every day. She also leaves behind her dog, Chino. Also surviving are Bougie (Alagra), Devontae, Oriyan, Lightskin Sherita (Shai), Justus (Justin), Alphina, Tina, and her special friend.
Carmen is survived by her lovely siblings James Arthur Allen Jr., Vanita Allen, and Josephine Allen; and a host of nephews and nieces whom she had fun with and always joked with, (Esther's kids) James Thompson, Shawn Thompson, Patrick Thompson, Amanda Thompson-Fleming, Sarah Thompson, Ryan Thompson, Colleen Thompson, Alex Thompson, and Ashley Thompson; (James Author Allen Jr.'s kids), Fabrice Allen, and Cedric Allen; (Vanita Allen's kids), Michael Popper Jr., Danny Popper, Christopher Popper, Joshua Popper, Christina Popper, and Justina Popper; and her cousins, Timothy Turner, Roland Turner Jr., Ann Marie Turner, Tracy Turner, Teresa Turner and her family. Nathanael Turner, Nahla Turner, Valeena, Khaleigh, Kiana, Layna, and Jazmine, Kaitlyn; aunt and uncle, Althea Turner and Roland Turner.
Carmen Allen was preceded in death by her mother, Ruth Cordelia Davis Allen, and her father, James Arthur Allen Senior; her best friend Kelly, Daphane, and mom Patsy; her oldest nephew, Arthur Thompson Jr.; and her oldest sister Esther Davis Thompson, who she is now with.
Carmen dedicated her life to Christ. She loves the Lord and believed in him.
Jamaica me Happy. Stay Lit.
Rutledge & Bigham Funeral Home is serving the family.