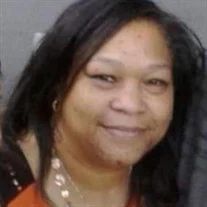 Carol Lynn Bailey Phipps entered into her heavenly home on December 23, 2022. She was born to Robert Bailey Jr. and the late Pearl Pickett Bailey in Wilkesboro, N.C., on April 19, 1963.
She was a graduate of Wilkes Central and pursued many opportunities to work with people. From banking to phlebotomy, she loved helping others.
Carol enjoyed music, cooking shows, and watching reruns of Sanford and Son, Judge Mathis, and movies. Carol was a CMA for Piedmont Health, an awesome Bingo player who had a wicked sense of humor and a deep belly laugh. She was loved by many and a devoted lover of family.
Carol was preceded in death by Pearl Bailey (mother), Robert Bailey III (brother), and Christopher Anthony Edward Bailey (son).
She leaves behind two beloved sons, Jordan Phipps (Michelle) and Kerry Sanford Jr.; her grandchildren, Jordan Phipps Jr., Jayden Phipps, and Paris Phipps; her father, Robert Bailey (Jewell); her older brother, Dr. Anthony Bailey, and younger twin sisters, Kathy Hines (Clarkston) and Merry Absher; as well as additional beloved siblings, Jackie Dalton (Terry), Timothy Bailey, Sierra Barrow, Josh Harris and Matthew Bailey.
A celebration of life will be held at Nicholson Funeral Home in Statesville on Saturday, December 31, 2022, at 12 noon. Online condolences can be left at www.nicholsonfunerals.com.
Nicholson Funeral Home has the honor of providing services for the family.