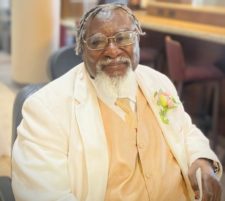 On Sunday, July 17, 2022, the Lord called home Charles Baldwin Alexander Stevens. He was preceded in death by his cherished daughter, parents, and five siblings.
Charles was born in Jennings Village, on the beautiful Island of Antigua, to Adorah and Emanuel James Stevens. He spent his youth on this island and surrounding Caribbean Islands with eight brothers and sisters. Through his mother's influence, he joined the First Moravian Church, and later felt a calling to become a Seventh-Day Adventist, where he served as a youth pastor.
In 1968, he emigrated to the United States. While he was working on Broadway in New York City, a young beautiful lady by the name of Carolyn Faye Minor caught his attention. The two began a friendship which led to courtship and then marriage. Shortly after their marriage, Charles joined the U.S. Army.
The 1970s were a blessed time for starting the family of Charles and Carolyn. Zeniah, their daughter, was their first arrival followed by Chaske, their first son, and then their youngest son, Ian. His children were the pride of his life.
While serving in the Army, he performed numerous roles and responsibilities, including construction engineer, instructor, tank commander, and platoon sergeant. He and his family enjoyed many tours of duty, which included Alaska, Texas, and Germany. While serving in Alaska, he attended the University of Alaska.
After serving in the Army for many years, his family settled in the Carolinas in the nineties. Charles continued to work with his hands in the construction field. He loved to build things and had several craft-based hobbies, including woodworking, leather-crafting, and clock-making. Later in life he dreamed of being a classroom teacher and continued his education at North Carolina A&T University in pursuit of that goal.
In the early 2000s, he and his wife relocated to Snyder, Okla., to help raise their first-born grandson while his father was on deployment. Charles and Carolyn later moved to Pleasant Garden, N.C., and then York, S.C., where he resided until his passing.
On June 11, 2022, he celebrated 50 glorious years of marriage and was so elated with emotions surrounded by family and loved ones. To God be the Glory!
He is survived by his wife, Carolyn; his sons, Chaske (Carlotta) and Ian (Shaquanna); and grandchildren, Cadriane, Chaske Jr., Na'sha, Chaunci, Zoriah, Nolan, and Lucas; and his great-grandson, King.
He will always be remembered for his strong belief in the Power of God, his love and deep devotion to his entire family, and an infectious humor. He was never without a vision or a story.
Services for Charles are to be held Saturday, July 30, 2022, at Mount Calvary Apostolic Church with visitation from 12:30 to 1 p.m. and funeral at 1 p.m. Burial will follow at Iredell Memorial Gardens.
Bunch-Johnson Funeral Home is serving the family.