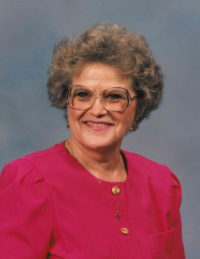 Barbara Ann Shaver Cothren entered peacefully into the presence of her Lord and Savior on Saturday, July 23, 2022,
Barbara Ann was born August 18, 1938. She was the daughter of the late Hugh B. Shaver and Grace Shook Shaver and was the third oldest of four siblings. Her oldest brother Bobby as a child had difficulty pronouncing her name so he gave her the affectionate nickname "Honey." She attended the Iredell County School System and graduated from Troutman High School. Once she and her three siblings had graduated Troutman High School, they and their parents were honored with an award for all four children not having missed a single day of school from first through 12th grade.
Barbara Ann, along with her other siblings, spent much of their early years working in the family business her father established in the early 1940s, A. L. Shaver and Sons and Shaver Brothers Stool and Novelty Co. The business matured as Shaver Brothers Stool Company Inc., which manufactured and distributed Shaker-style furniture to many national brand merchants. She was taught bookkeeping by her Aunt Hazel at the tender age of 12.
After the sale of the family business in 1987, Barbara Ann continued working as a bookkeeper for some 20 years for Piedmont Forklift in Statesville, N.C. She also served as bookkeeper for Elmwood First Baptist Church for several years. She was an Elvis fan and loved the North Carolina mountains along with her family, including her nieces and nephews and grand-dog Hanley.
Ms. Cothren is survived by two daughters, Donna Pruitt and Mary Ann Cothren Jarvis, both of Statesville; three grandchildren, Steven Pruitt, Tonya Pruitt, Mallory Jarvis (Bradley Ayers); great grandchildren, Robyn Harrison, Brody Pruitt-Simons, Oliver Ayers, and baby Ayers due in January; one brother, Richard "Jimbo" Shaver (Judy) of Cleveland; a sister-in-law, Shirley Shaver; along with several beloved nieces and nephews.
In addition to her parents, she was preceded in death by her grandparents, Arlie Letcher Shaver and Jenny Thornburg Shaver; and two brothers, Bobby Eugene Shaver and Hugh Albert Shaver.
The family wishes to express their sincere gratitude to the staff of the Gordon Hospice House for their outstanding care and consideration for Ms. Cothren's comfort while she was there.
Funeral Service will be held 12 noon on Wednesday, July 27, 2022 in the Troutman Funeral Home Chapel. Burial will follow at the Iredell Memorial Gardens Cemetery. The body will lie in state from 9 to 11 a.m. Wednesday at Troutman Funeral Home. The family will be present to receive friends from 11 a.m. to 12 noon.
Memorials can be made to the Gordon Hospice House, 2341 Simonton Road, Statesville, NC 28625 or St. Jude Children's Research Hospital, 501 St. Jude Place, Memphis, TN 38105.
Nicholson Funeral Home is serving the family.