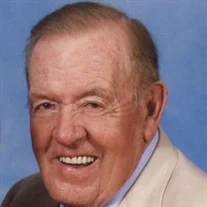 Charles Franklin Feimster, 91, of Statesville, N.C., peacefully passed away on December 28, 2022, at his home. Frank was born September 5, 1931, in Iredell County to the late Earl and Margaret Feimster.
He graduated from Scotts High School in 1949. Frank was a lifelong member of Trinity United Methodist Church and held many offices during his life. Frank retired from Dixie Liberty/Roster, where he loved working with the farmers in Iredell and surrounding counties. He was an avid gardener and enjoyed delivering the fruits of his labor to the neighbors. Frank loved his family, and he enjoyed hunting, fishing, and riding all his horses he named Nellie.
In addition to his parents, he was preceded in death by his wife Phyllis Templeton Feimster; one daughter Cynthia Ann Feimster (infant); one brother Arch Feimster; and one sister Mar Feimster Watt.
Those left to cherish his memory include one son, Wesley Feimster (Kelly); one daughter, Fran Feimster Elliott (Jimmy); one grandson, Logan Feimster; one granddaughter, Wini Feimster Connelly (Brian); and one grandson, Luke Feimster Elliott.
The family would like to thank the caregivers, Nancy Beckham, and Tammy Wilson, who treated our dad like he was their own, and Hospice of Iredell County, for all the help we received in recent years.
A Graveside service will be conducted Friday, December 30, 2022, at 4 p.m. at Trinity United Methodist Church, 106 Trinity Road, Statesville. Rev. Mike Duncan will officiate. The family will receive friends in the fellowship hall after service.
Chapman Funeral Home is serving the Feimster family.