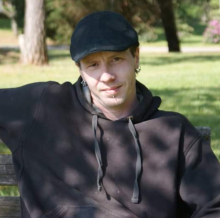 Daren Rutledge Coffey, 42, died suddenly at home on December 31, 2021.
Daren was born on October 12, 1979, in the former Panama Canal Zone. He graduated from Balboa High School in Ancon, Panama. In 1999 Daren moved with his family to Statesville, N.C., where he lived and worked, enjoyed hanging out with family and friends, and worked at various places over the years.
Daren's deep philosophical musings and quick wit will be missed.
Daren was predeceased by his mother, Leanne Coffey, and his grandparents.
He is survived by his father, Michael Coffey of the home; his sons, Ashton and Kainen; and sister, Chelsea Coffey Hamman. He also leaves his beloved dog Messy.
The family will celebrate his life at a private memorial at a later time.
Cavin-Cook Funeral Home & Crematory, Mooresville, is serving the Coffey family. Condolences may be made to the family at www.cavin-cook.com.