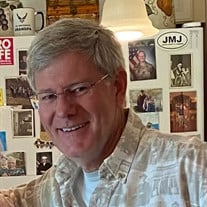 David Edward Stukbauer, 55, of Mooresville, N.C., died May 31, 2022, in Mooresville.
He was born in Maple Heights, Ohio, on December 11, 1966, and grew up in Newbury, Ohio. After graduating from Newbury High School in 1985, he attended Kent State University and graduated in 1991 with a B.A. in General Studies. He then received a Master's Degree in Counseling and Human Development from Winthrop University in Rock Hill, S.C. He wore many hats throughout his professional career, from university official to advertising sales representative to the owner of several small businesses.
David is survived by his parents, Edward Roger and Delores Marie Stukbauer of Cleveland, N.C.; son Steven Edward Stukbauer and ex-wife Theresa Stukbauer of Mooresville; brother and sister-in-law Kurt and Terry Stukbauer of Cleveland; sister and brother-in-law Diane and Brian Canipe of Hickory, N.C.; and nephews Erik Stukbauer and Jared Stukbauer of Cleveland and Paul Sood of Hickory.
David was a true friend to many who most enjoyed making people laugh and was always quick to lend a hand and support those who needed him. An avid history and geography buff, he was impossible to defeat at trivia games and also had a gift for unerringly accurate political humor. A man of faith, he relied on God to get him through difficult times in his life, one of many valuable lessons he passed on to his son. He truly continued to love and forgive in a way that is a beautiful example of what it means to follow Christ. He had a passion for firearms and sport shooting. He loved walking his golden retriever Shiloh and chasing after his cat Smokey.
A Mass of Christian burial will be held at 1 p.m.on Friday, June 3, at St. Therese Catholic Church, Mooresville. Burial will follow the service at Glenwood Memorial Park.
Among his favorite quotes:
"You have enemies? Good. That means you've stood up for something sometime in your life." (Winston Churchill)
"Freedom is never more than one generation away from extinction. We didn't pass it to our children in the bloodstream. It must be fought for, protected, and handed on for them to do the same, or one day we will spend our sunset years telling our children and our children's children what it was once like in the United States where men were free." (Ronald Reagan)
Cavin-Cook Funeral Home & Crematory, Mooresville, is serving the family. Condolences may be made to the family at www.cavin-cook.com.