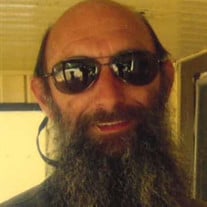 David Eugene Whitesides, 52, of Mooresville, N.C., passed away unexpectedly on January 5, 2022.
He had a gift of nurturing and hospitality. From an early age, David learned from his parents to take care of others first, always willing to jump in and lend a hand where ever needed. In addition to others, David made sure his mama was always taken care of.
David loved to cook and enjoyed providing meals and sweet treats to his co- workers, family, friends and neighbors. From his tasty Brunswick stew to the pies his mama taught him to make, to whatever meat he was smoking on the cooker, there was always a full belly when David was cooking.
David was the definition of don't judge a book by it's cover. Most people would be taken a back when they saw David, with his scruffy beard and mile-a-minute moves. But David was a kind, generous, thoughtful soul who was adored by children and pets and won over the biggest skeptics.
He was a loyal friend, hard-working, fun-loving redneck who loved old country and Southern rock music.
He was predeceased by his mama Marvene and his daddy Bobby. He is survived by his sister Wanda and her son Cody, along with many other relatives.
The family will receive friends on Tuesday, January 11, from 10 to 11 a.m. with a service following at 11 a.m. at Cavin-Cook Funeral Home.
Cavin-Cook Funeral Home & Crematory, Mooresville, is serving the family of Mr. Whitesides. Condolences may be made to the family at www.cavin-cook.com.