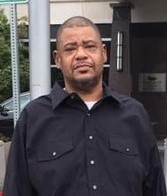 Mr. Lynn Omar Williams Sr., 50, was born in Detroit, Mich., on December 2, 1971, and was the son of the late Glenn Neely and Beverly Powell Williams. He passed away on Friday, January 7, 2022, at Iredell Memorial Hospital in Statesville, N.C. In addition to his parents, he was preceded in death by a cousin, Marcus Coleman, and an aunt, Christine Coleman.
He attended Southeastern High School in Detroit, Mich., and Rancho High School in Las Vegas, Nev. Prior to his move to North Carolina, he was a shift supervisor with British Petroleum for over ten years.
He leaves to cherish the memory of his life his wife, Danyell Elizabeth Martin Williams; three sons, Lynn Omar Williams Jr., Terrance Martin and Terry Scott; one daughter, Lyniah Beverly Glenda Williams; a sister-in-law who was raised in the home, Tanysia Martin; one brother, Glenn (LaTina) Williams of Las Vegas, Nev.; three sisters, Belinda Williams of Las Vegas, Nev., and Kasandra Williams of Detroit, Mich., and Sonya Williams of Statesville; a sister-in-law, April (Javier) Alverez of Maryland; grandchildren, Terrance Martin Jr., Skylar Martin, Avi'Anna Martin, Khalil Martin, Jeremiah Martin, Zariah Martin, King Daniel Martin, Kendrick Scott and Keyari Scott; several nephews and nieces including Scott Anthony, Ethan Williams, Saijwan Coleman Jr., Saiquandra Coleman, Saidranna Coleman, Saiquan Coleman, and Saiqwavion Coleman; and a host of cousins, including Ottis Coleman, Saijwan Coleman, Donald Lee Poole and Houston Coleman; other relatives and numerous friends.
A funeral service is scheduled for Friday, January 14, 2022, at Rutledge and Bigham Mortuary, 603 South Center Street, Statesville, N.C.
Rutledge & Bigham Funeral Home is serving the family.