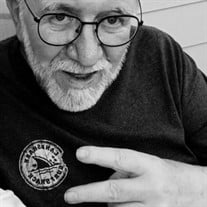 David Patrick Nail of Mooresville, N.C., passed away on November 23, 2022, in Myrtle Beach, S.C.
David was born lucky on St. Patrick's Day 1953. He grew up in Winston-Salem N.C., and graduated from North Forsyth High School. He then grew his hair a little longer and moved to Cullowhee, N.C., where he studied and graduated from Western Carolina University with a Bachelor of Science in Education in 1976. He later would further his education with Master of Science in Technology Education in 1995 at North Carolina A&T State University.
David began his teaching career at Mooresville Senior High. He taught at the same school for 30-plus years until he retired. David was also a member of the Mooresville Planning Board for many years. He was an avid carpenter and could build anything with a great imagination. He loved building furniture, toys, a tiki bar and even his own home. He also enjoyed nothing more than spending time with his only son and his two beautiful grandchildren, Brooklyn and Cash.
David loved retirement! He enjoyed the calm, quiet and relaxing time to have everything slow down. He loved a good book and would usually finish it within a couple days. When he wasn't reading, you could see him on his front porch rocking chair "just watching the cars go by." In the afternoon he was normally talking with Josh and trying to figure out which new restaurant they needed to try.
He was always looking for the next great Hot Dog Spot! His usual order consisted of two dogs with mustard and slaw, and a small Pepsi. "No fries, I'll just have a few of yours." A simple day with only his favorite joys would really get him going.
For his entire 69 years, David was proud to be a hippie. Most photos included him flashing his Peace Sign. He loved listening to fine Bluegrass music and sitting around a fire. He enjoyed live music and concerts. There were not many country or folk artists and bands that David did not see preform at some point in his life. He loved passing on that gift of music to his son. He and Josh enjoyed many concerts together.
David was loved and will be missed by many. His family, his co-workers and the many countless students that he either taught or was just a mentor and friend.
He was preceded in death by his parents, Henry and Betty Nail of Winston-Salem, N.C.; and brother Rick Nail of Hinesville, Ga.
He is survived by son, Joshua (Donelle) Nail, and two grandchildren of Myrtle Beach, S.C.; brothers, Mike (Jenny) Nail of Winston-Salem, N.C., and Byron Nail of Winston-Salem, N.C., and several nieces and a nephew.
A Celebration of Life will be held by the family in the Heritage House, on the campus of Cavin-Cook Funeral Home & Crematory, 494 E. Plaza Drive, Mooresville, N.C., on Sunday December 18, 2022, from 6 to 9 p.m.
The family would like to have a Celebration of David's Life. This will be a time to gather and reminiscence about his Life and Legacy without a formal service. It will be an informal occasion in a relaxed atmosphere. Josh wants to honor his dad by keeping this a time of memory sharing, a few tears and a lot of laughter, just like David would like.
Hot dogs, chips, and Pepsi will be served by The Dog House food truck. But no fries. Only because David wouldn't have ordered any anyways. He would just eat some of yours.
If you are unable to join the family or in lieu of flowers and plants, you can donate to The Michael J Fox Foundation for Parkinson's Research at www.michaelifox.org/donate.
Cavin-Cook Funeral Home & Crematory is serving the family.